Cheshire College Apprenticeship Awards shine a light on local excellence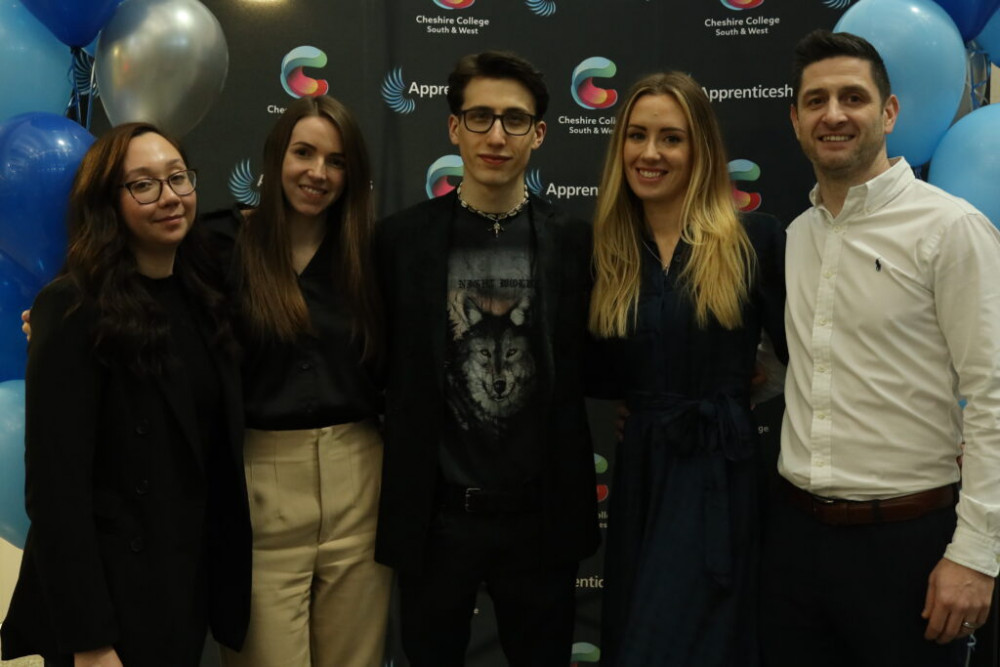 Some of the winners from the awards ceremony (Image credit - Cheshire College)
Apprentices and employers were celebrated as Cheshire College – South and West held their Apprenticeship Awards evening.
The annual event, held on Thursday evening (February 09th) celebrated the contributions of apprentices, the positivity of the employers, and the progress that some of the apprentices had shown in the previous year.
Held during National Apprenticeship week, the College put on the ceremony at their Crewe Campus, and with more than one hundred guests in attendance and twelve awards presented, it was a fitting venue for the first time at the venue in the events 18 year history.
Apprenticeship schemes could not exist without the partnership of local employers including the South Cheshire Chamber of Commerce, who have worked closely with apprentices.
The importance of apprentices to the workforce was underlined by Dan Hardy, Manager at Greif UK who said "I think it's really important that we support young people and give them a good start to their career. Apprenticeships give you the opportunity to grow and develop, and that's what it's all about for us."
Karen Roberts, Assistant Principal – Apprenticeships and Employer Engagement, commented: "The Annual Apprenticeship Awards provide a fantastic opportunity to celebrate the hard work, determination, and development of our students. All the award winners are living proof of just how valuable apprenticeships are to the community, businesses, and the wider economy."
Cheshire College – South and West has over 1,000 apprentices and works with over 500 local, national, and international employers.
Jasbir Dhesi OBE, Principal, and CEO of Cheshire College added: "We are all exceptionally proud of last night's winners; a sentiment which I'm sure is shared by their friends, families, and colleagues. All the nominated apprentices have worked incredibly hard, and their efforts haven't gone unnoticed."
The full list of winners are below;
Full list of the 2023 Apprenticeship Award winners:
Joshua Hallam – Business Administration Apprentice of the Year
Rhys Hodges – Construction Apprentice of the Year
Helen Husa – Health, Care, Dental and Pharmacy Award
Natalie King – Education and Training Apprentice of the Year
Tyler Penman – Engineering and Manufacturing Apprentice of the Year
Lillie George – Retail and Commerce Apprentice of the Year
Mickey Rischmiller – National Grid Apprentice of the Year
Zachary Carnall – BAE Systems Apprentice of the Year
Matthew Ward – Cheshire Fire Apprentice of the Year
James Millington – Bentley Apprentice of the Year
Greif – New Apprentice Employer of the Year
Trac Precision Solutions Ltd – Employer of the Year
Jessica Taylor – Cheshire College Apprentice of the Year
Michael Johnson – Award for Outstanding Contribution