Congleton Liberal Democrats blast Chancellor's mini-budget saying 'rewards for those who need them least'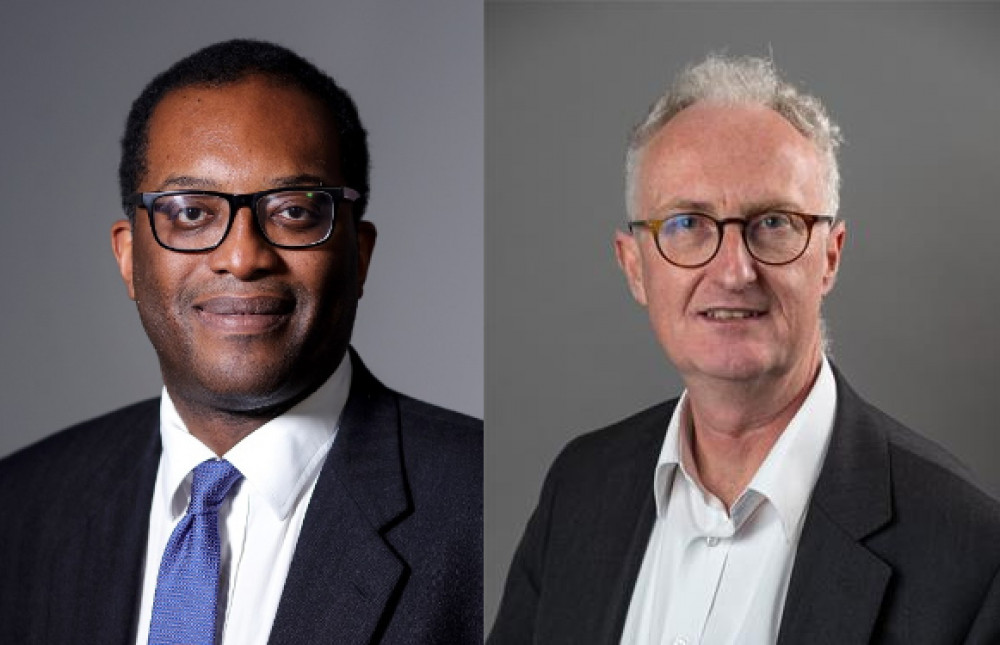 Chancellor Kwasi Kwarteng and Congleton Liberal Democrats Chair Phil Williams. (Image - CC 3.0 Open Government Licence UK Government Cropped bit.ly/3SqSigR / Cheshire East Council)
Sweeping financial changes by the latest Conservative cabinet which will affect Congleton businesses and residents have been blasted by local Liberal Democrats.
Chancellor Kwasi Kwarteng has outlined a series of tax cuts and economic measures in a massive shake-up of the UK's finances.
But Alsager-based Phil Williams, Chair of the Congleton Constituency Liberal Democrats, says the changes are no surprise and he has called for a change of Government.
The basic rate of income tax has been cut to 19p and an increase in National Insurance has been reversed.
The threshold before stamp duty is paid in England and Northern Ireland has been raised to £250,000 - for first time buyers it's £425,000
In what is seen a nod towards increasing business confidence the cap on bankers' bonuses has been lifted, and a planned rise in corporation tax has been scrapped.
The 45% top rate of tax for higher earners abolished - although this doesn't apply in Scotland.
In total there will be £45bn in tax cuts by 2027 but much of that - national insurance cuts, the abolition of the cap on bonuses and the highest rate of income tax - is channelled towards higher earners and has already brought some sweeping condemnation.
The BBC's Global trade correspondent Dharshini David commented, for example: "The richest 10 per cent of society will gain 60 times as much from the National Insurance cuts as the poorest 10 per cent.
"It's a marked difference from the policy of recent years in which the government focussed more on redistributing income".
The Chancellor hailed his changes to national insurance, stamp duty and income tax as a "new era" - but Labour's Rachel Reeves called his mini-budget "a plan to reward the already wealthy".
In summary:
- The basic rate of income tax will be cut by 1p to 19p from April 2023
- The 45p tax rate for top earners over £150,000 will be abolished, also from April next year
- The level at which house-buyers begin to pay stamp duty is doubled from £125,000 to £250,000
- First-time buyers will pay no stamp duty on homes worth £450,000, up from £300,000
- Planned rise on corporation tax from 19% to 25% is scrapped
- A 1.25% rise in National Insurance to be reversed from 6 November
- Cap on bankers' bonuses, which limited rewards to twice the salary level, is axed
- Cost of subsidising both domestic and business energy bills will cost £60bn for the next six months
- UK to introduce sales tax-free shopping for overseas visitors
"Chancellor Kwasi Kwarteng is well known for his radical right-wing approach to economic issues, so it's no surprise to see him rewarding those he most expects to support his policies," said Mr Williams who lives in Alsager.
"He is lifting the cap on bankers' bonuses and scrapping the planned rise in corporation tax. The Liberal Democrats have always been upfront as a Party on the need to increase taxation where necessary in the interests of promoting a fairer society.
"We openly declared that we would put a penny on income tax - a very small increase but one which would have far-reaching effects in terms of funding essential services.
"The money has to come from somewhere. Increased borrowing and increased national debt makes little sense.
"Where is the 'levelling up', where is the compassion, where is the humanity in any of this?
"All we are seeing are rewards for those who need them least and more pressure on those who need help the most.
"That has always been the Conservative way and it's high time for a change."
The Lib Dems came third in the 2019 General Election, with 6,026 votes to Congleton MP Fiona Bruce's 33,747 victory.
Congleton Conservatives have been contacted for comment.
Got an event to promote in Congleton? Advertise it for FREE on the Congleton Nub News events section.
Congleton: Have you signed up for our FREE Friday weekly newsletter? It contains each week's top 10 Congleton news stories, and one EXCLUSIVE article?
Almost 4000 of you have signed up already. Simply enter your email address in the shaded box below or on this link.
Free from pop-up ads, or unwanted surveys, Congleton Nub News is a quality online newspaper which produces 30-40 stories a week for our town.
New congleton Jobs Section Launched!!
Vacancies updated hourly!!
Click here: congleton jobs