Congleton: Surprise donation to Beartown Rickshaw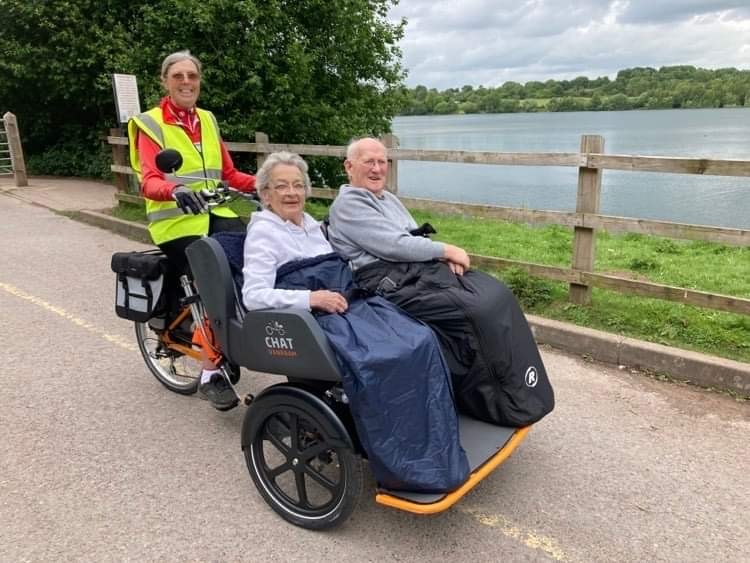 Tibby and Roy enjoying their trip out, with volunteer pilot Denise. Roy said 'This is the first time I've visited Astbury Mere since moving to Greengables, and I'm blown away by the fabulous colours. A real gem on our doorstep, and without the rickshaw we'd never have been able to see this.'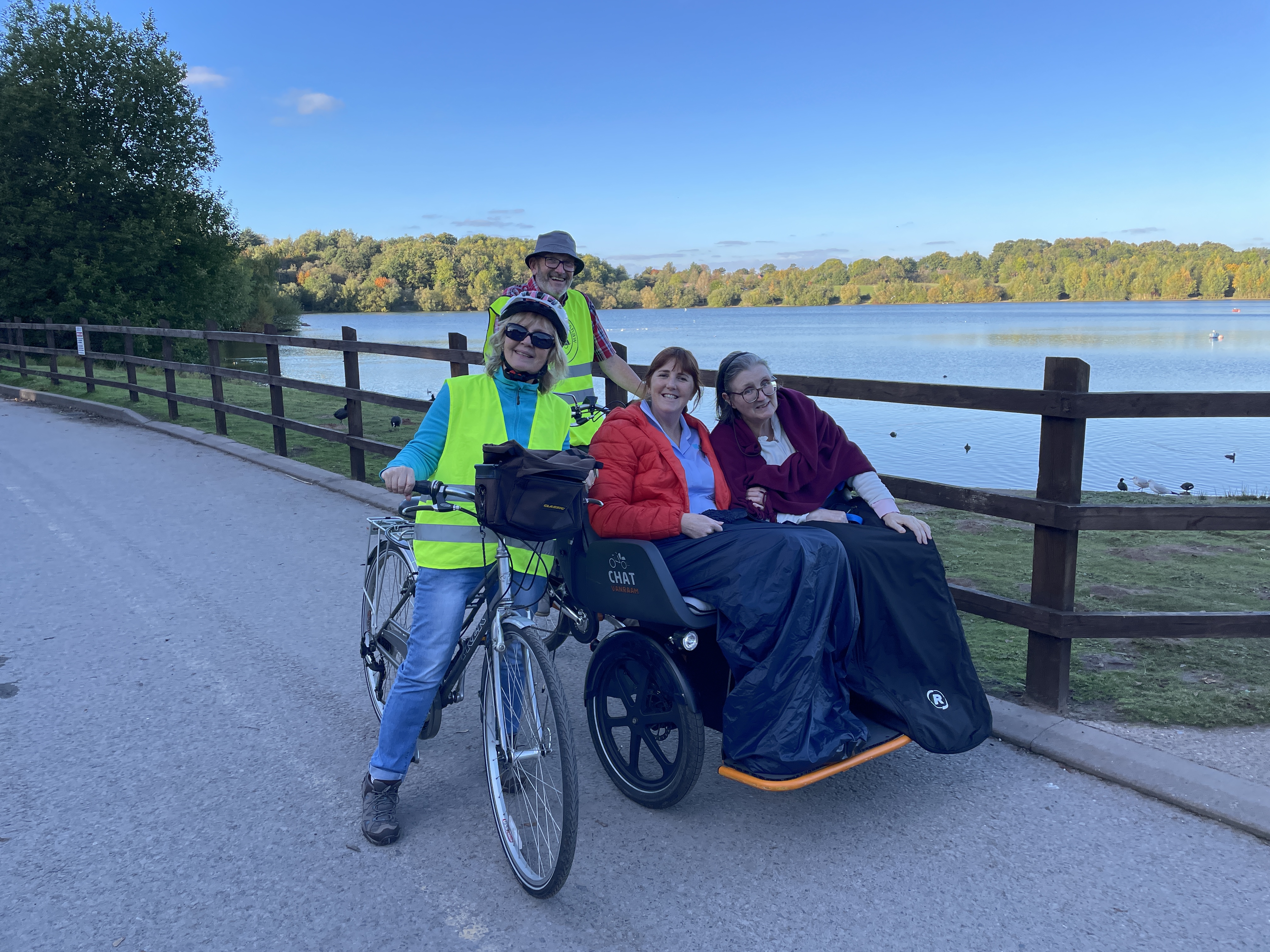 Pauline with carer Suzie pose for the camera, with volunteer pilot Trevor and outrider Amanda.
When the Beartown Rickshaw was invited along to the winter festival at Greengables Care Home on Congleton's Sandbach Road on Saturday 12th November, the trustees didn't expect the most welcome bonus of raffle proceeds to aid running costs.
Since April, volunteers have been giving free rickshaw rides to residents at this home, and they, their relatives, and the home's wellbeing co-ordinator, Rimone, have all been enthusiastic about this opportunity for people to leave their four walls for a 'wind in the hair' experience. They've been taken to popular local places including the park and Astbury Mere, where they can enjoy the greenery, chat to others and greet people's dogs.
Liz Bolding, one of the charity's trustees said, 'We know how much the rickshaw rides are appreciated, and the donation of £77 raised by the raffle confirmed how much the volunteers are valued in giving residents a lovely experience.'
Rimone said, 'The rickshaw is absolutely amazing and our residents love going out on the rickshaw. The team are amazing and have built a relationship with not only the staff but also the residents.'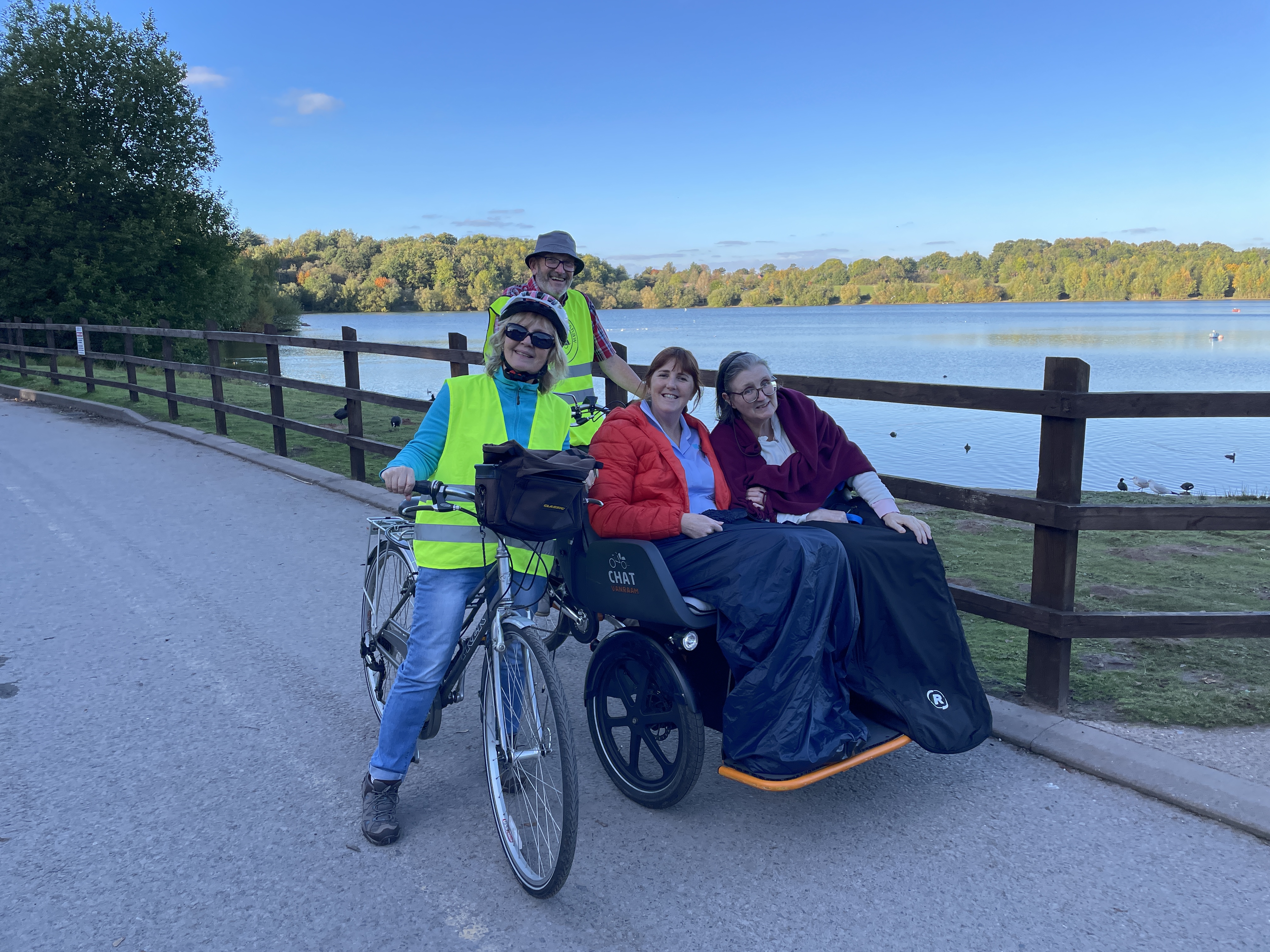 Pauline with carer Suzie pose for the camera, with volunteer pilot Trevor and outrider Amanda.
You can see more about Beartown Rickshaw online with many more photos of activities on Facebook. Please get in touch if you'd like to join the friendly group who gain so much satisfaction from helping people get into the fresh air. As one volunteer, Lesley, said, 'It's such an honour and a pleasure to provide this experience.'
The electric-assist rickshaw has ongoing running costs, so if you'd like to support it, the best way over the next few weeks is to donate online via this link because the Mortgage Advice Bureau, Macclesfield, is matching all donations until 8th January 2023, thus doubling money raised.
If you donate £20 or more before the end date, you can also claim a reward of a ride for two in daylight hours around Astbury Mere Country Park or Congleton Park. So that's a gift voucher for a friend or relative easily sorted.
Another longer term way to help is to nominate Beartown Rickshaw as a beneficiary when you buy from Amazon (using this website: smile.amazon.co.uk). They will donate a small part of the price at no extra cost to yourself.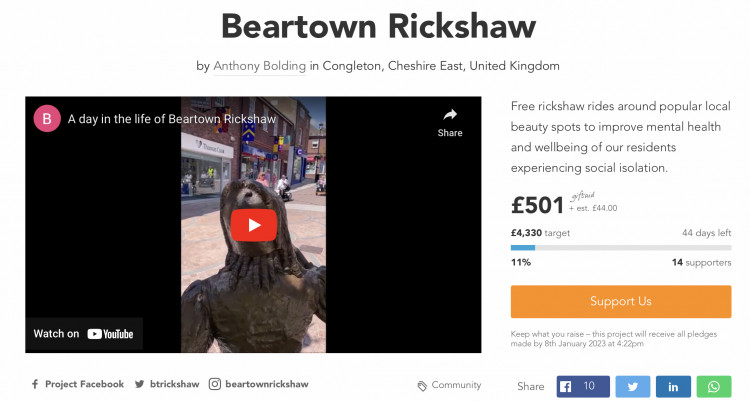 Watch the wagon in action around Congleton by clicking here.
Click the red link to join Congleton's FREE business directory.