New pub just a short drive from Congleton wants to be 'Britain's best'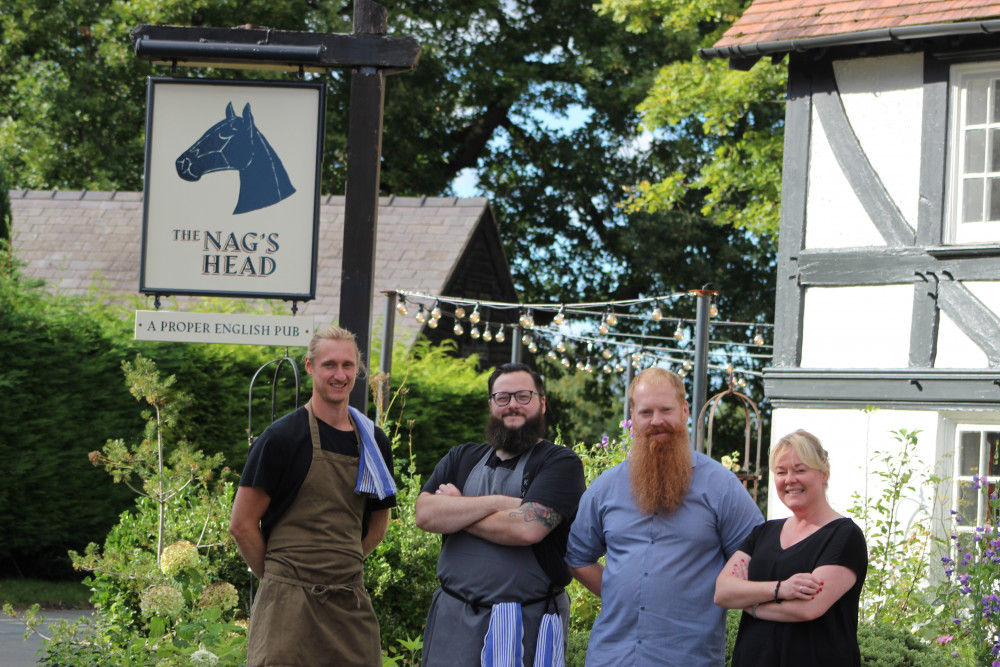 Chefs Matthew Walsh and Ben Keay, Manager Paul Busby and Sue Collin of The Nag's Head, Cheshire. The pub wants to be the best in Britain, and features lots of Macclesfield talent. (Image - Alexander Greensmith / Macclesfield Nub News)
A pub just 22 miles from Congleton wants to become the best in the country.
The Nag's Head located in Haughton, Moss is a 36 minute drive from Congleton. (The journey from Congleton is slightly longer if you prefer the more picturesque country route containing Jodrell Bank).
The pub has huge connections with Congleton's neighbouring town of Macclesfield, as it has been launched by the people that brought The Picturedrome to Macclesfield.
They are all about fresh British-grown produce, and invited Congleton Nub News for a meal. The pub itself has a local love-in, being situated near Nantwich, which is home to a plethora of farming communities.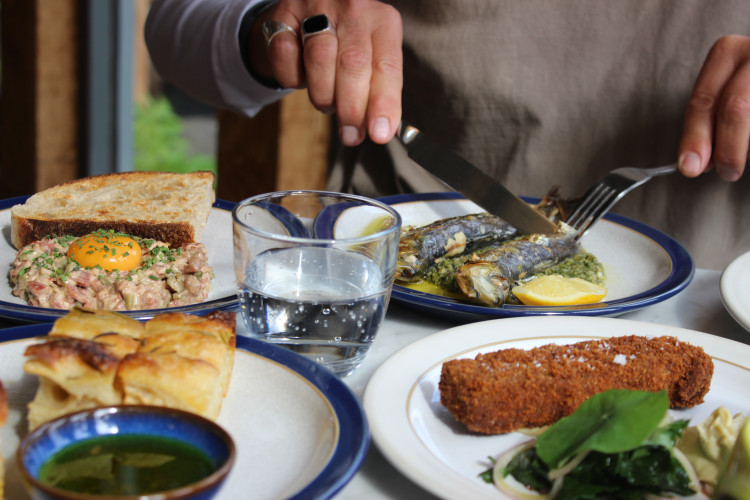 The pub had shut 33 months ago, but has just been given a new lease of life by Market Operations, and is their first restoration project since they brought The Picturedrome to Macclesfield. (Image - Alexander Greensmith / Nub News)
As a result, they have hyperlocal beers, meat, vegetables and more on offer.
The pub even has their own herb and produce garden, and has bought land surrounding the pub with a vision to grow more of their own fruit and veg in the future.
Market Operations, the parent company of The Picturedrome, who run other independent venues in Altrincham and Manchester, explained the vision behind the pub.
"Buying and sourcing regionally and locally has always been at the heart of what we do," said Director Jenny Thompson.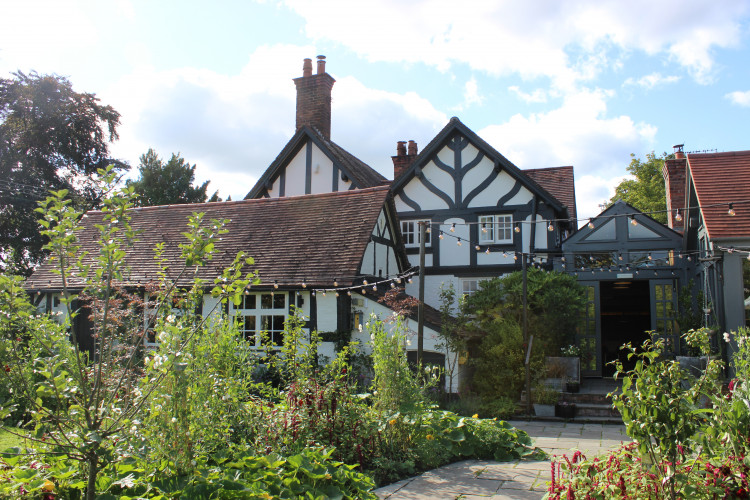 There are already fruit and vegetables growing in the beer garden, but the pub have bought fields next to the pub to expand their growth and self-sustainability. (Image - Alexander Greensmith / Nub News)
"We're able to take that to a new level with the Nag's Head.
"With [Macclesfield resident] Matt Walsh's team at Tender Cow behind the the Nag's kitchen, they have been able to be ultra-local in its sourcing."
Chef and Director of Tender Cow Matthew Walsh, who Macclesfield may recognise from The Picturedrome, is one of the chefs who will work at The Nag's Head, alongside other Cheshire talent.
"Meat is butchered from whole carcass animals which are hung on site," said Matt.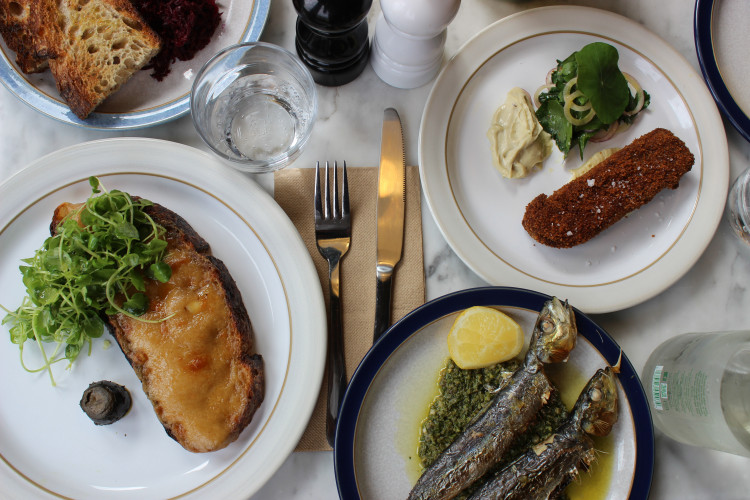 From rarebit with locally-grown watercress, to mutton from nearby sheep raised on grasslands leading to a juicy taste, The Nags Head has a 'Best of British' pub menu and is regionally-sourced wherever possible. The sardines (below) come from Cornwall. (Image - Alexander Greensmith / Nub News)
"Our rare breed beef raised to the highest standards of animal husbandry comes from Poole Hall Farm three miles away, as does all the veg which is grown on the Poole Hall estate by Cinderwood Market Garden.
"We even have John the Vet - who we call John the Veg - who lives down the road and grows veg on a semi-industrial scale who brings us in boxes of seasonal produce to use in the kitchen.
"I think he gets paid in beer!"
Chef Matt, who went to King's School and lives in Macclesfield to this day, is not the only familiar face from The Picturedrome who will be appearing at The Nag's Head, which is just a 59 minute drive from Macclesfield.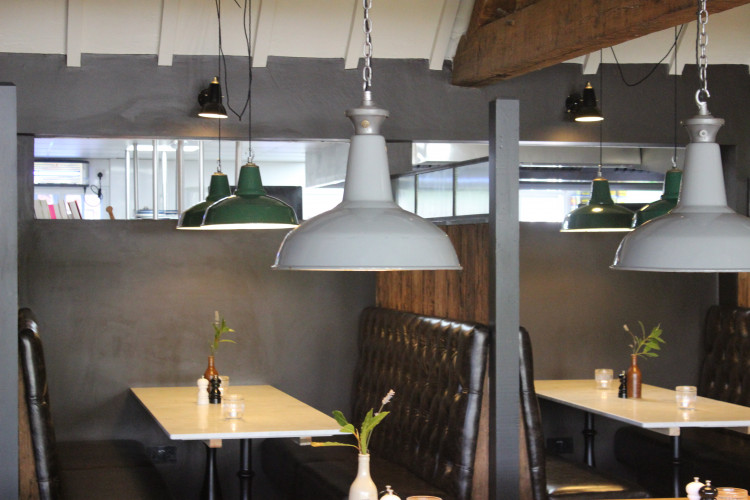 The interior is wonderfully restored, and blends the historic bones of the building with delicately-modern furnishings. (Image - Alexander Greensmith / Nub News)
Guest kitchens will come and cook at the Cheshire pub, offering more cuisines alongside the regular pub menu.
Diners can expect two monthly residencies that will bring you pasta from Terroni and mussels from Savages.
Both of which, are permanently based in Picturedrome, Macclesfield, and are championed by Macclesfield residents Jonny Mulyk and Jamie Savage.
Other guest kitchens which will appear at the pub alongside the regular menu include Taco's from Pico's and bowls of ramen from New Wave Ramen. These two establishments made their name at Altrincham Market and Mackie Mayor respectively.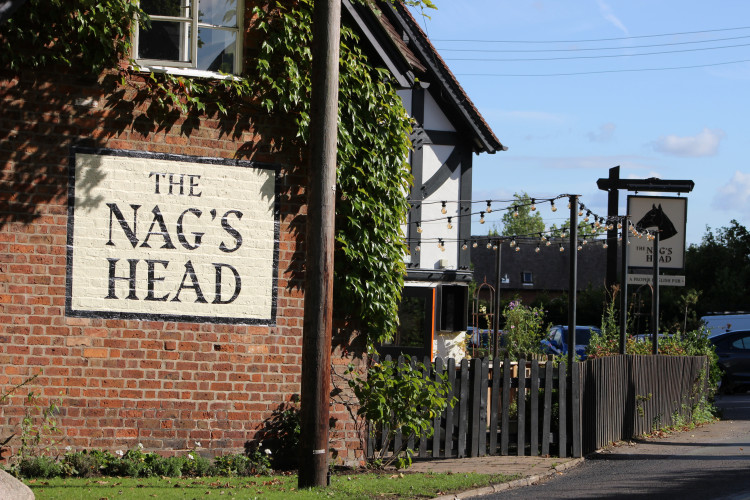 The signage art is also done by a Macclesfield signwriter, being Gregg Johnson of Cactus Design. (Image - Alexander Greensmith / Nub News)
The Nag's Head is a Grade-II Listed pub which dates back to the 17th century. It closed in December 2019, with the possibility of being turned into houses.
However, Market Operations took over the site at the start of the year, and have now reopened it as their first regeneration project since opening The Picturedrome in Macclesfield in October 2019.
Reclaimed wood was used throughout the restoration, which increases the pub's environmental chops, alongside their locally-sourced food or drink.
Nick Johnson, who is also Director of Market Operations, invited Macclesfield Nub News up for a meal, and explained why you should too.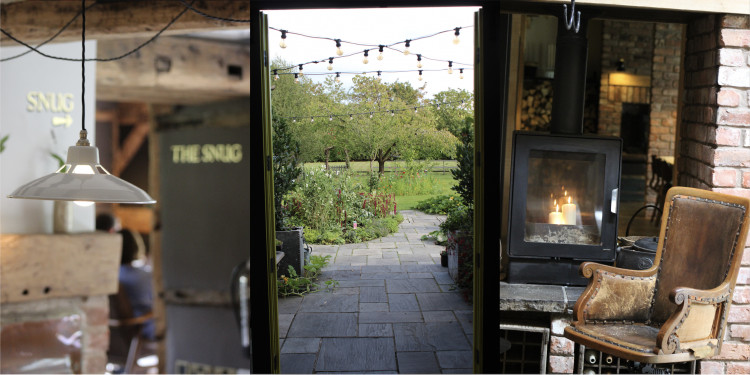 The pub has three fireplaces, and furniture is draped with blankets, offering an unrivalled comfy vibe. (Image - Alexander Greensmith / Macclesfield Nub News)
"Our investment in The Nag's Head is long term," said Nick.
"We want it to be a place that's passionately local whilst also appealing to much wider audience.
"For next spring we'll have an outdoor wood-fired pizza oven from Alty Market and Macclesfield Picturedrome legends Honest Crust, and an outdoor charcoal grill.
"Next summer, they hope to introduce an outdoor cooking area and bring in a seasonal menu. The guest kitchens will change every two months as well.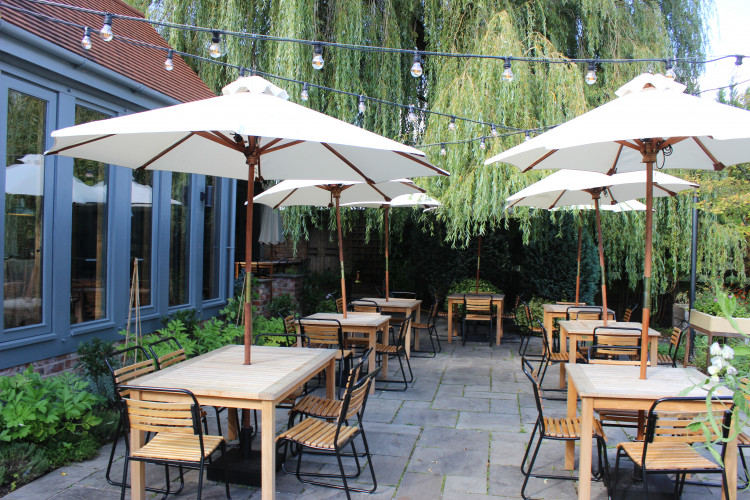 The pub is child and dog-friendly. You can also eat food or drink a pint outside as well as in. (Image - Alexander Greensmith / Nub News)
"We've also agreed to buy the field next door that once used to belong to the pub so that we can camp and glamp alongside purpose built shepherds huts."
The rescue and restoration of this community pub is the latest in a long line of regeneration projects by Market Operations.
Residents of the village nearby have volunteered or taken up jobs at the pub, to get the business off to a flying start.
A local honeymaker who is also head of the local parish council has even decided to work there, as the pub is the only community building left.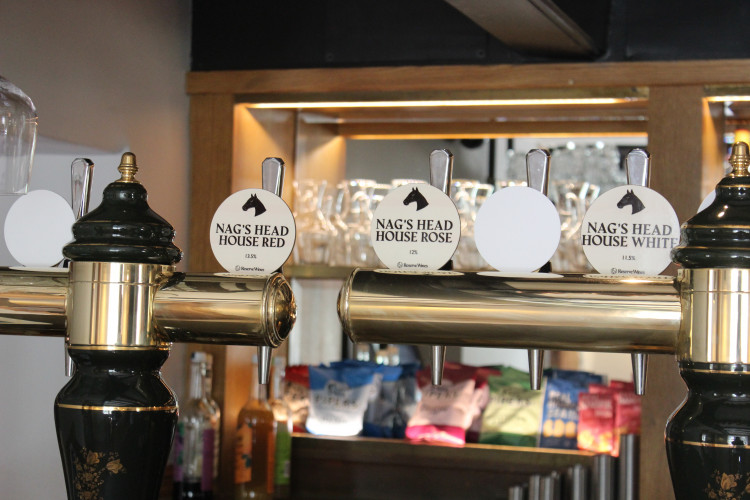 The pub is 32 miles from Macclesfield, and features one of our town's top chefs. (Image - Alexander Greensmith / Nub News)
And to compliment the food, The Picturedrome wine experts Reserve Wines have a comprehensive menu on offer to compliment the locally-sourced meals.
There are 15 cask beers, including regional favourites and Blackjack Brewery, who run Jack in the Box at Macclesfield's Picturedrome.
Macclesfield's Forest Gin is also sold at the pub, along with Nantwich Gin, which Nick confessed has surprassed Forest Gin as his favourite ever gin.
Nantwich is just five miles away from The Nag's Head, but the pub hopes to attract visitors from all over the country, especially when their Shepard's huts are available to book next year.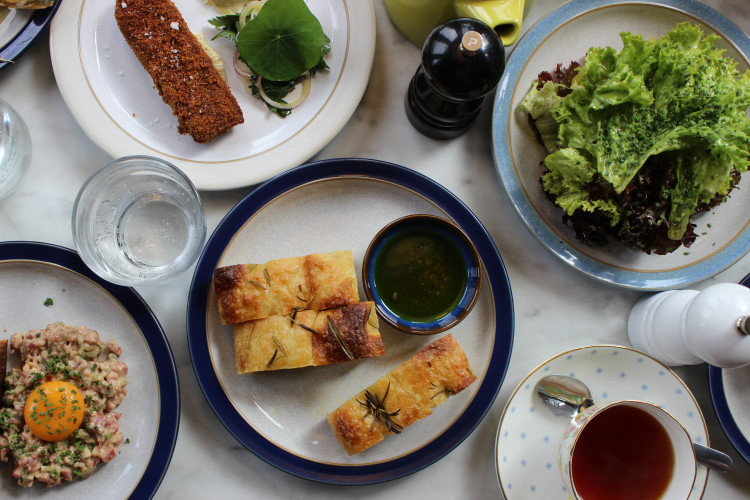 The greens (top right) are grown on-site, but to help with supply local growers (Cheshire and Shropshire-based) also pitch in. (Image - Alexander Greensmith / Nub News)
"In short we want the Nag's Head to become one of the best pub's in the country," Nick said.
"That won't happen overnight. It will happen because we've stuck to our guns and made it the most amazing, comfortable, charming, happy place to be where you get great food and enjoy time with friends and family.
"We can do things with this I think nobody else can do who owns a pub, thanks to the connections that we've already got.
"We want to be a proper locals pub, with really good food attached to it."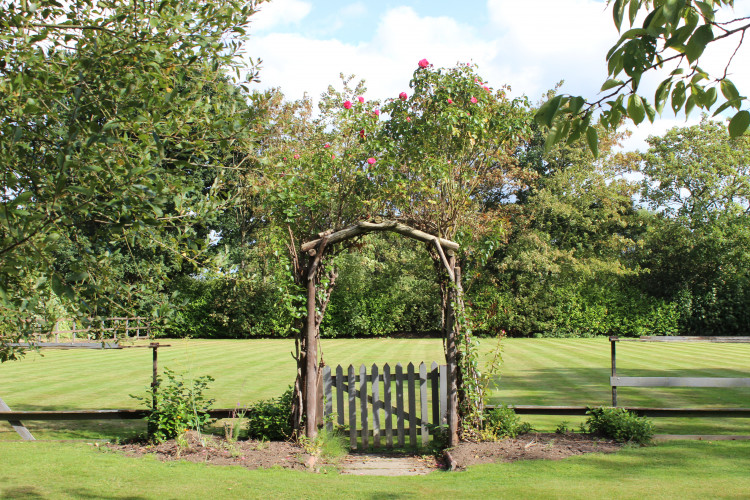 The Tudor-style pub will rear their own animals as well in the future. (Image - Alexander Greensmith / Nub News)
Whether you are coming for a Sunday roast or an impromptu day out, you don't have to book a table.
This is as there are plenty of seats, 230 if you count inside and out.
But if you want to for peace of mind, you can book here.
The wedding can be hired for an idyllic Cheshire country wedding reception. Should you be interested, their number is 01829 260265.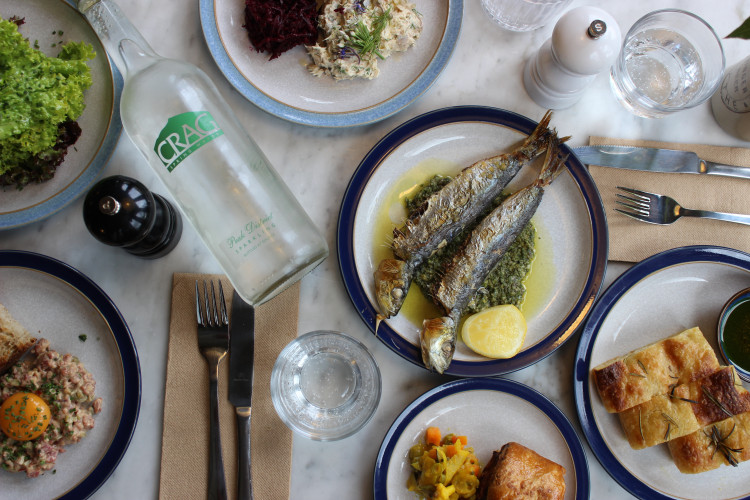 Dishes include a Sausage roll with picalilli featuring Wirral mince and made on-site filo pastry (bottom) and a sourdough foccacia baked every morning at The Nag's Head (right). The meat for the steak tartare (left) comes from a farm within walking distance of the pub. (Image - Alexander Greensmith / Nub News)
The Nag's Head is located at Long Lane, Haughton, Moss, Tarporley, CW6 9RN.
Macclesfield: You can also follow the pub on social media.
They also have a website with menus and more.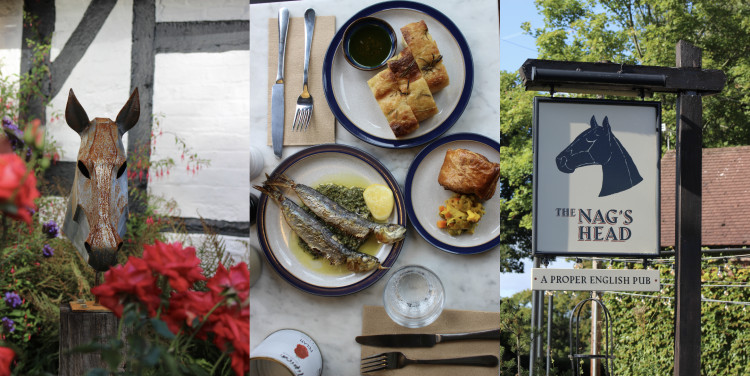 The menu changes daily, but there will be big seasonal changes as well to reference The Nag's love-in for local produce. (Image - Alexander Greensmith / Nub News)
The Nag's Head is open five days a week. Monday and Tuesday the pub is closed.
However, Wednesday to Friday has a 12pm to 10pm opening hours. Saturday sees the pub open from 11am to 10pm, whereas Sunday has opening times of 11am to 6pm.
Market Operations are one of the biggest hospitality employers in the Cheshire area. They employ 30 in Macclesfield alone, and have hired residents of neighbouring villages such as Tarporley and Bunbury for The Nag's.
You can find more about them, and how they brought life back into Macclesfield's disused Edwardian cinema on Chestergate, by clicking here.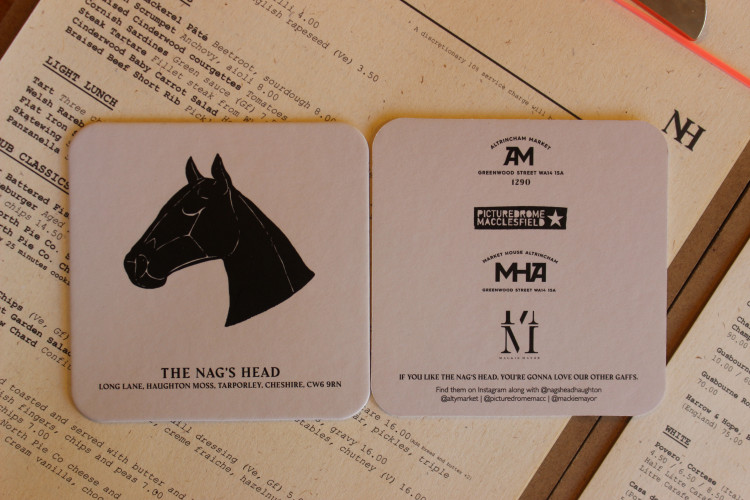 As well as The Nag's Head and The Picturedrome, Market Operations also run Mackie Mayor in Manchester and Alty Market in Altrincham. (Image - Alexander Greensmith / Nub News)
They are also open to stocking produce from Congleton, so please give them a bell if you are interested on the contact details above.