New Mayor and Deputy Mayor appointed in packed Congleton Town Hall ceremony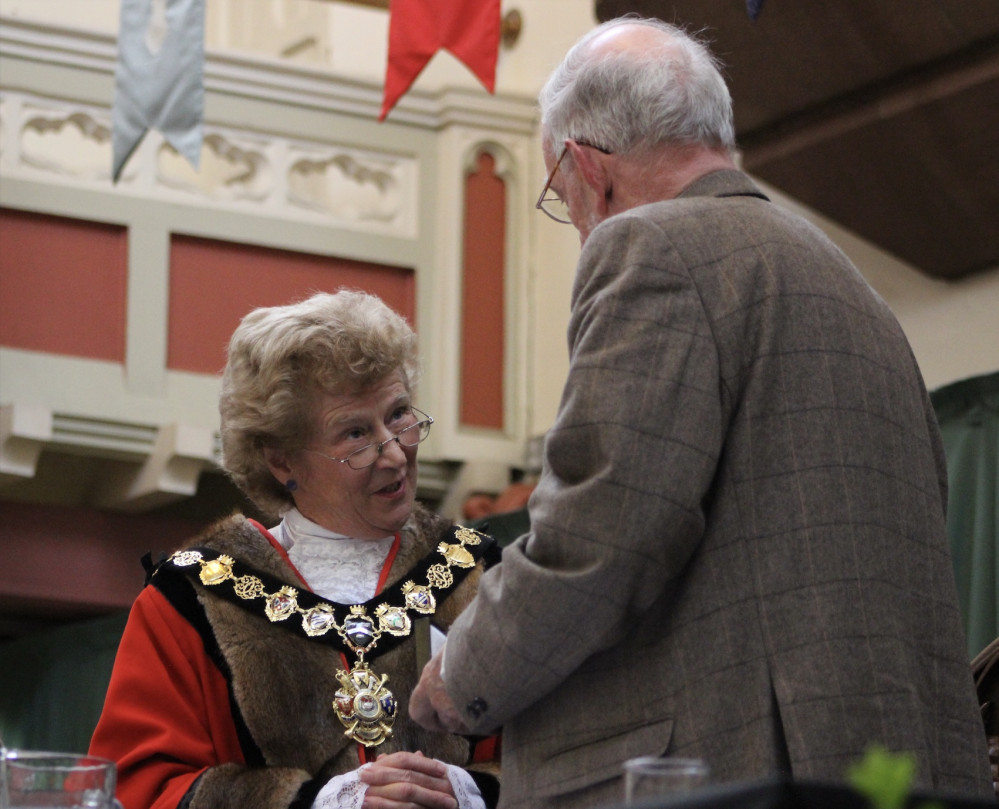 Mayor Cllr Margaret Gartside receives the Mayoral chain from former Mayor Cllr Dennis Murphy. (Image - Alexander Greensmith / Congleton Nub News)
Congleton has elected a new Mayor and Deputy Mayor, in front of 100 residents at Congleton Town Hall.
The Annual General Meeting, held in person for the first time since 2019, saw a new Mayor and Deputy Mayor be elected.
Previous Deputy Town Mayor Margaret Gartside becomes the Mayor for 2022-23.
Margaret sits on seven working groups within the council, and also works hard as a Director for the Astbury Mere Trust.
"Thank you all this evening for joining me as Mayor. I think it is going to be a busy one," she said.
The retired teacher's appointment to Mayor was confirmed following proposals from two Congleton Town Councillors.
Cllr David Brown said: "I've known Margaret for ten years. She joined the Congleton In Bloom committee ten years ago.
"Every year she's joined we've won a gold medal, and three times in the national finals.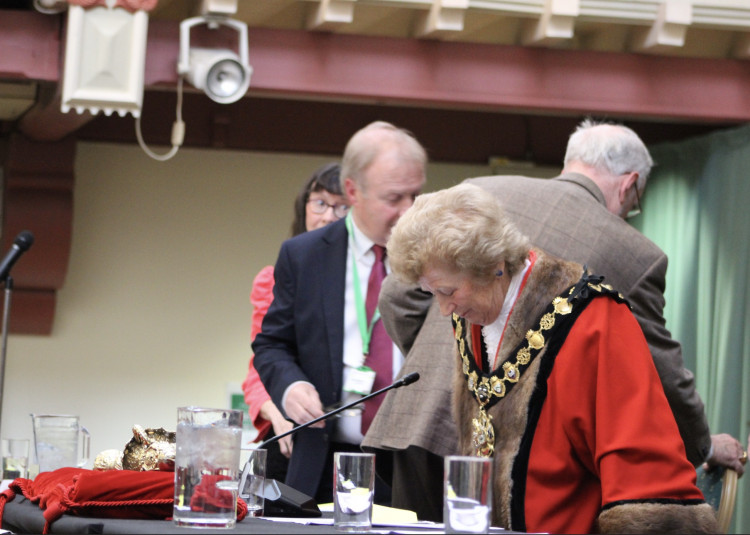 Cllr Gartside bows as she is confirmed Mayor. (Image - Alexander Greensmith / Congleton Nub News)
"I do admire her for her determination. During that period she had a very serious operation on her knee, and she hardly missed a beat.
"It wasn't long before she was back kneeling down and weeding, certainly doing more than I do.
"There are key qualities in a Mayor. Empathy and being able to relate to people in a friendly and socialable manner. They must be enthusiastic and proud about the town.
"I have no hesitation whatsoever in the qualities Margaret has got, and the dedication since she was elected two years ago that she would make a great Mayor.
Cllr Gartside, who lives near the A34, was particularly praised for her work with the Congleton Green Working Group.
Cllr Kay Wesley said: "Margaret has proved to be a very dedicated and popular Town Councillor. She has worked hard for her residents.
"She also seeks to engage young people, as well been school governor for many years."
"Cllr Gartside has done a fantastic job steering through [strong] opinions on tree planting and actually make a difference in sustainability and Congleton Town Council."
The new Mayor had this to say on her green ambitions for our town: "I am passionate about tackling climate change, preserving our planet for future generations.
"And we haven't got any time to waste Climate change is happening now."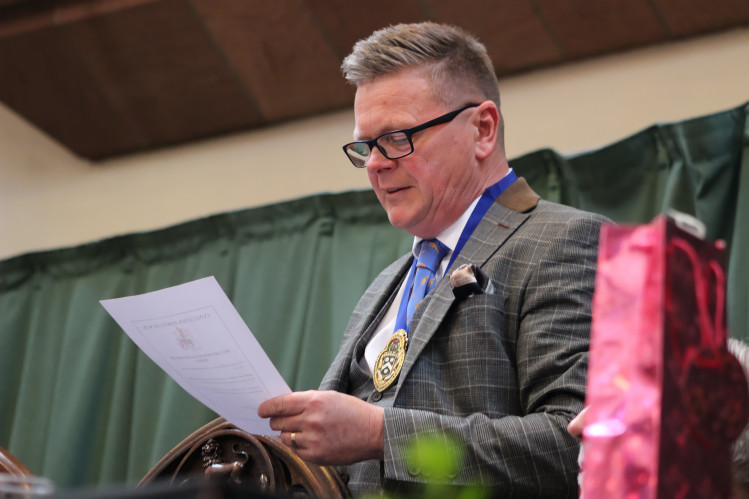 Cllr Rob Moreton was elected Deputy Mayor. He was born in Congleton. (Image - Alexander Greensmith / Congleton Nub News)
Congleton-born Cllr Rob Moreton was elected as Deputy Mayor.
Rob became a councillor three years ago, and is also a Cheshire East Councillor.
"It is a huge honour to stand here and be committing to be Margaret's Deputy Mayor," said Cllr Moreton.
The Congleton East resident, was proposed by Cllr Robert Douglas.
Cllr Douglas praised Cllr Moreton's work to get the Coach and Horses Inn in Timbersbrook community valued status to prevent it from being turned into houses, among other desirable qualities.
"I would like to second someone who was was born and bred in Congleton, carrying that vital service of delivering post to our community for the last 35 years," added Cllr Douglas.
"Councillor Rob Moreton has been working tireless for charity including monthly disco events at the Congleton Cricket Club for those with disabilities. And his work on reporting potholes should be given to the Guinness Book of World Records.
"Rob shaved his hair in 2019 to raise money for charity, and will go on a charity walk to Manchester this weekend for Congleton charity Visyon.
"He is a fan of Liverpool FC, and is also the Town Crier for Congleton 750."
Outgoing Mayor Denis Murphy, who has completed his third and final term as Congleton's Mayor, was praised for his support of The Christie Macclesfield, and his support of the People of Ukraine.
"I said this when I was Mayor in 2018-19, but indeed, it is the best job in town. Congratulations Cllr Gardside on being elected as Mayor," said Cllr Murphy.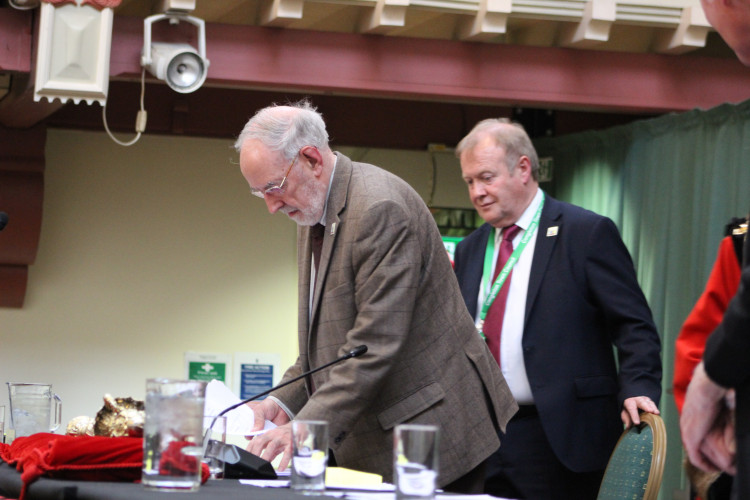 Cllr Murphy collects his papers from his position as Mayor for the last time. (Image - Alexander Greensmith / Congleton Nub News)
Cllr Murphy will continue to be a Liberal Democrat Town and Cheshire East Councillor for Congleton.
The first Town Council meeting with the new Mayor and Deputy will take place on May 17 2022, at Congleton Town Hall.
Congleton: Have you signed up for our FREE Friday weekly newsletter? It contains each week's essential Congleton news stories, and one EXCLUSIVE article?
Close to 4000 of you have signed up already. Simply enter your email address in the shaded box below or on this link.
Free from pop-up ads, or unwanted surveys, Congleton Nub News is a quality online newspaper for our town.