Meet the main man behind Congleton Jazz and Blues Festival 2022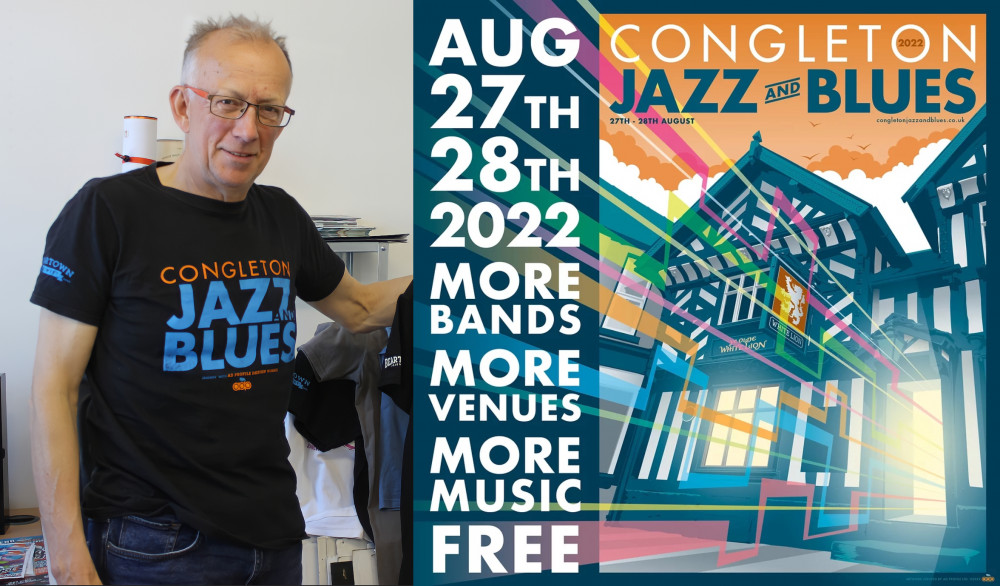 Congleton Jazz and Blues Festival takes place later this month.
Congleton Jazz and Blues Festival will take place on the Bank Holiday weekend of Saturday August 27 and Sunday August 28.
There are 21 venues, more than 70 gigs over two days.
Organising it is a Herculean task, and starts as soon as the previous year's festival ends.
The event - which attracts thousands - is organised by just eight to ten volunteers.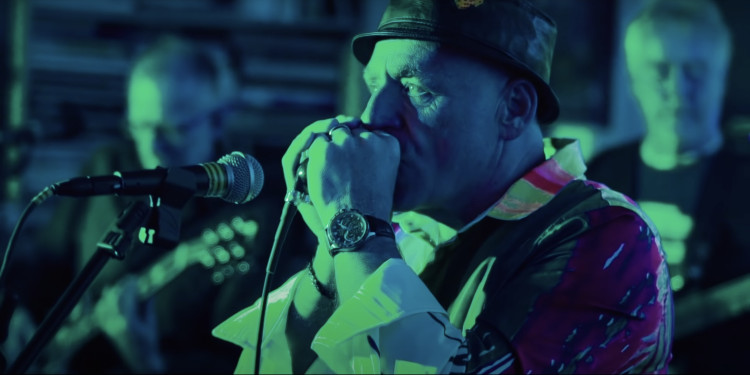 There are 21 venues, including two new ones this year. (Image - Callum Hilditch-Crimes)
The main one, is Congleton resident Vince Cutcliffe, who has helped out since the second festival in 2011.
Congleton Nub News met with Vince for a candid chat on what makes him - and the Festival - tick.
"One part of the festival is about making Congleton a destination town, but the other part which is really important to me is raising that community spirit," he said.
"So we create a centrifuge of music and people by keeping it within walking distance.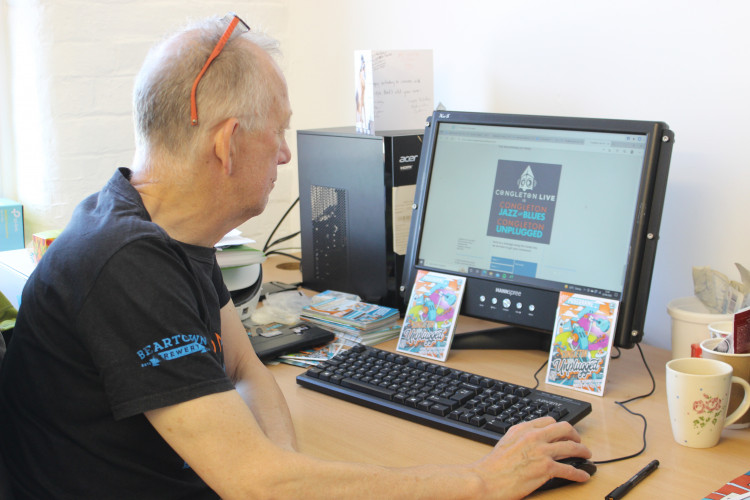 Vince organises the festival just a few doors away from Beartown Brewery, who are one of the event's eight sponsors. (Image - Alexander Greensmith / Congleton Nub News)
"People are only five or ten minutes tops from one end of the festival to the other.
"It also gets people into the eateries and new premises we have in the town. You compare our town to similar sized towns, we have a lot more places to eat, but the Jazz and Blues festival gets people into those venues with a unique and unforgettable environment.
"The community spirit is so important to me, which is why in winter we get the Congleton Pentecostal Church [of Cross Street] and try putting on gigs on, or at the Congleton Bath House and Physic Garden. And that's friendly to people who don't feel comfortable in bars or going to a big festival. [Vince also helps organise Congleton Unplugged].
"We do try to aim what we want to deliver at a community level, and that is why it is free. We try and make things happen that venues can't do, but we help them in a certain way by making sure the musical standard is high.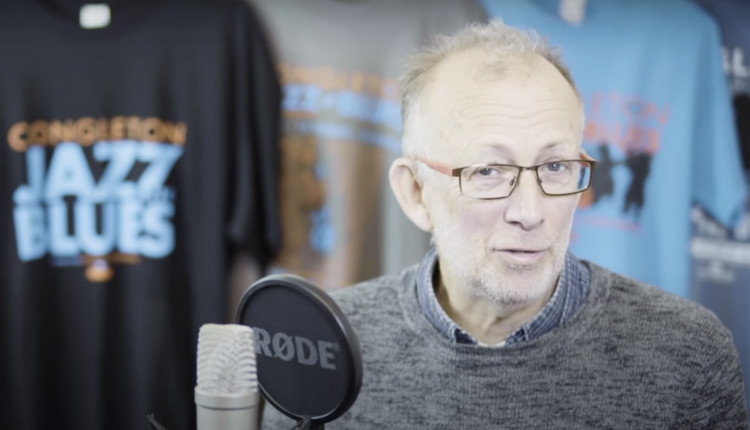 Vince interviewed in 2020's Congleton Jazz & Blues Documentary. (Image - Callum Hilditch-Crimes)
"Whether it is helping bands with transport or accommodation, we help with all those things in the background that make you realise why it takes a whole year to plan.
"Three of us used to do the whole thing, and that was mostly me and Louise. The festival has grown so much, it is now a limited company."
The traditional Dixieland Umbrella March will kick the free music festival off at 1.30pm in the town centre.
Community events and music in the Physic Garden from 2pm till early evening, and music in all types of bars, pubs, coffee shops, bistros around the town centre.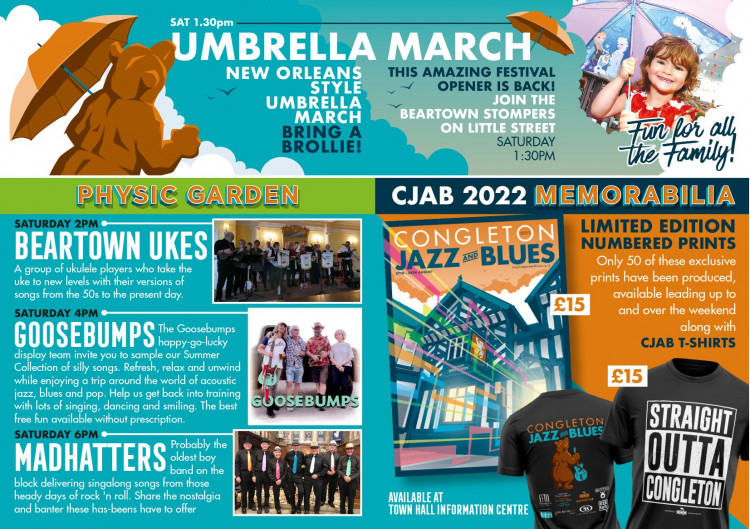 The weekend will begin with the New Orleans-inspired parade of umbrellas. (Image - Congleton Jazz and Blues Festival)
Genres span from jazz from ragtime and blues, from country blues of the Mississippi Delta through to Chicago.
There's also some of modern takes on classic genres, such as contemporary blues and blues Rock, and a sprinkling of music from elsewhere too.
"One act I'm particularly looking forward to is a young guitarist called Luke Machin," he added.
"He's a local lad who would come to the festivals when he was 12 or 13 years old and see people play blindingly-amazing guitar. And here he is now in his 20s and better than them all.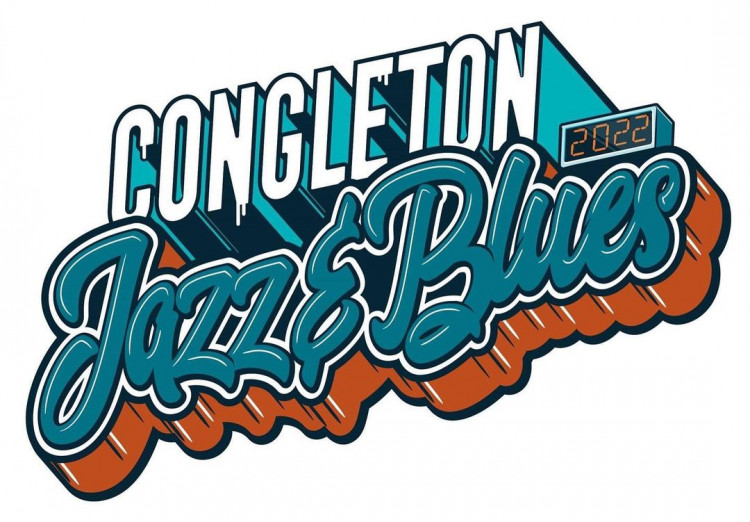 The Festival has over 2400 followers on Facebook. (Image - Congleton Jazz and Blues)
"I'm a bit of a nerdy bloke at the end of the day and I play guitar in a band and I go and see somebody like him and think 'Wow, compared to him I can't actually play guitar'. He's got an album this year, and will play at the Town Hall before a Nile Rodgers tribute act.
"Another personal favourite of mine is Robin Bibi, who drives up from London with two of the best rhythm sections you'll ever hear. He jumps on the tables and plays the guitar behind his head, does all the Jimi Hendrix stuff. He's a great value entertainer [and of course, Congleton Jazz and Blues is free].
"Alex Clarke, a young woman who was finalist for the BBC Young Jazz Musician of the Year in 2020 is another highlight."
Capital Walk will be a new venue to this years event, with a jazz band of session musicians set to fit the food halls cosmopolitan vibe.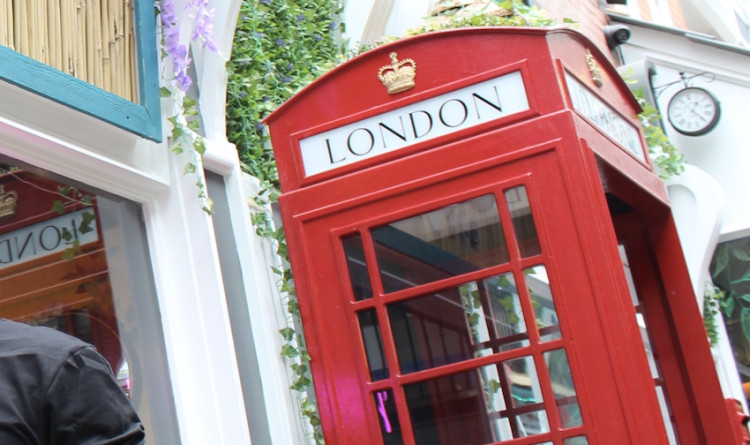 Capital Walk is one of the new venues to this year's festival, and will host four performers. (Image - Alexander Greensmith / Congleton Nub News)
Another new site hosting live music this year is The Little Street Cellar, which has just opened in Congleton. A quite remarkable feat, given the size and shape of the building!
And once again, Congleton graphic designer AD Profile Design has kindly donated his artistic talents to the official poster and merchandise of this year's event.
"It feels great to create something like this. It is a lot of hard work," he revealed.
"As a kid I grew up in a house where we would have parties.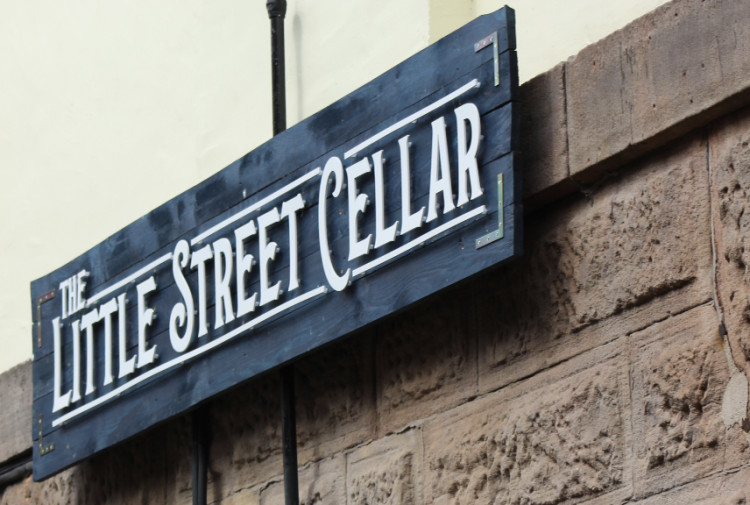 New bar The Little Street Cellar will also host some gigs. Performers include unofficial Macclesfield FC fan anthem songwriters Glass Ankle, and Dust Radio. The Umbrella March will malso start outside here. (Image - Alexander Greensmith / Congleton Nub News)
"So the idea of having a big party in Congleton - which is all it is really - is a kind of natural, easy idea to me.
"What I get out of it is tremendous satisfaction when it works.
"It is nice to see the town do it's thing. The venues and people come together and there's this great sense of community."
"It is the sort of festival that grows as it moves on. And will in the coming years."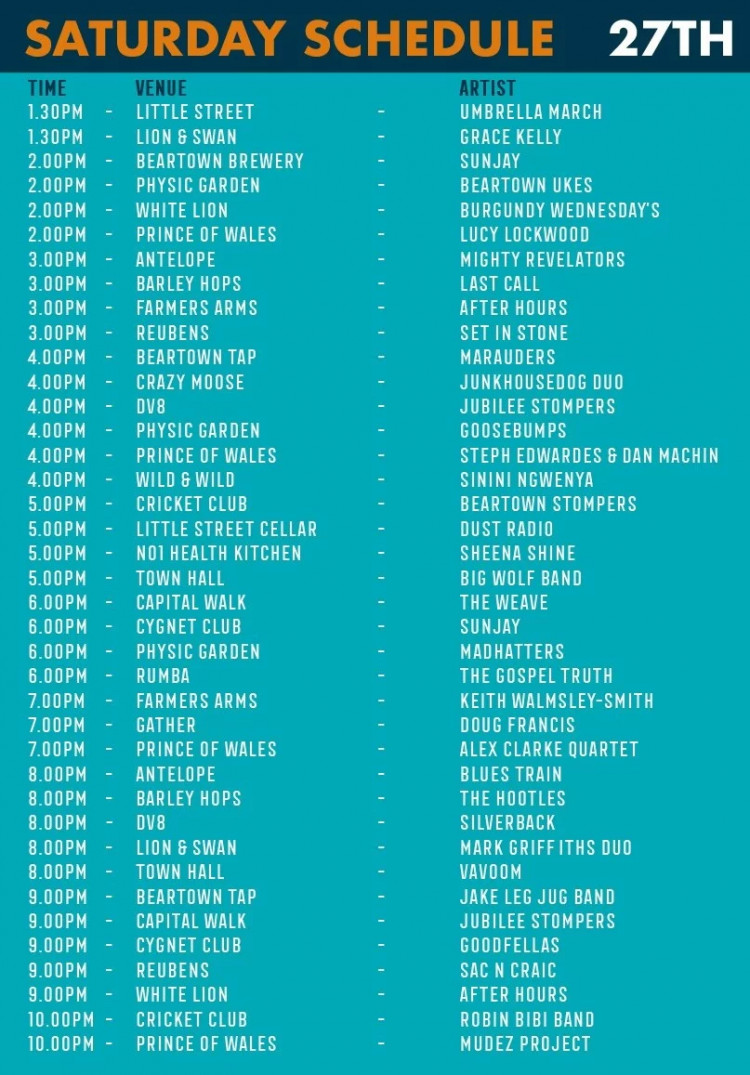 Events on both days go on until 10pm. The event promises seventeen hours of free live music. (Image - Congleton Jazz and Blues)
As Congleton expands, new and old residents of our town are encouraged to volunteer their time to upcoming festivals.
There is some sad news this year, as a venue. was removed from the schedule.
The Young Pretender, which shut on Lawton Street earlier this month, had hosted performers for many editions of this super-sized event.
The festival was instigated by Joe Manning in 2010, who is no longer a volunteer, however, his family business Beartown Brewery is still greatly affiliated with the festival as a sponsor and venue host.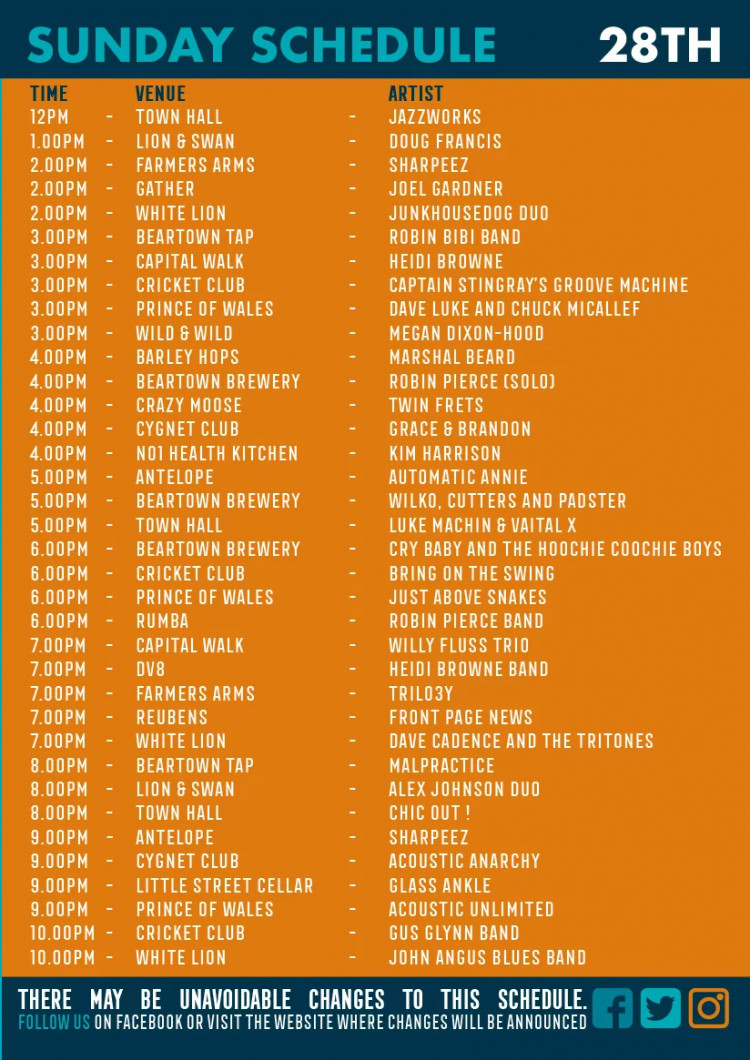 Congleton Live CIC is the community interest company which Vince is part of that organises Congleton Jazz and Blues Festival. (Image - Congleton Jazz and Blues Festival)
The atmosphere of the down during the weekend makes it a thoroughly rewarding experience. So much so, that Congleton Nub News will volunteer as an unpaid photographer there.
To conclude our chat with Vince, he shared what he loves about our town.
"I've lived in Congleton since 1987, been in a band since 1992, and got into the scene through Nantwich Jazz and Blues Festival," Vince also said.
"As well as helping out, I've played almost every Congleton Jazz and Blues Festival as well with my band Cry Baby and the Hoochie Coochie Boys.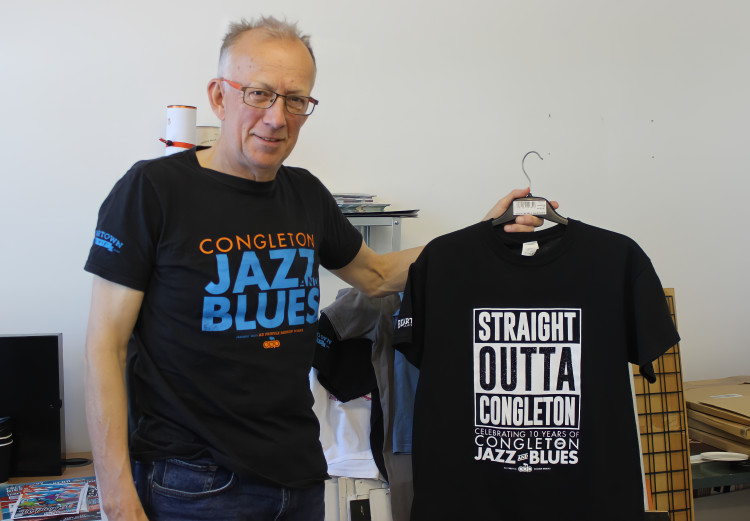 While modest when asked on the subject, Vince himself will perform at the festival as a vocalist and guitarist in the local five piece band Cry Baby And The Hoochie Coochie Boys. He's on at Beartown Brewery on Sunday at 6pm. (Image - Alexander Greensmith / Macclesfield Nub News)
"I'm from London originally but grew up in a community where I still know people I grew up with. Many of them come up here for the Jazz and Blues Festival. So for me community is really important. And Congleton has something like that what I grew up with.
"This is a great little place. It has a little high street, loads of bars pubs and cafés, with a lot of individual charm.
"Something like that is pretty unique. And I love it in Congleton for the running and cycling routes as well. Two minutes from the town centre you can still be in open fields."
"Thank you to everyone who supports and comes to the Festival."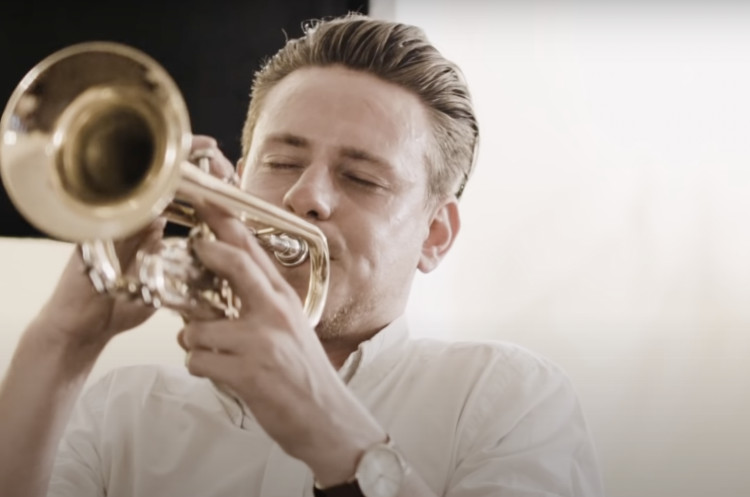 You can watch a 51 minute documentary on the Festival by clicking the red link below. (Image - Callum Hilditch-Crimes)
Congleton: You can watch a documentary about the history of Congleton Jazz and Blues Festival by clicking here.
While the festival is free, if you want to financially support or promote the festival, you can buy a new t-shirt from from Congleton Information Centre from August 17. The unisex tops cost £15.
Please note: The event will coincide with the Makers Market on the Saturday, so expect the town centre to be packed!
The festival is sponsored by the following Congleton establishments:
AD Design Limited
Beartown Brewery
Congleton Town Council
Eze Talk
Franklyn Financial Management
Hammond McNulty
SAS Daniels LLP
Stephenson Browne Congleton
The sponsors pay for the marketing of the event, advertising, and their website.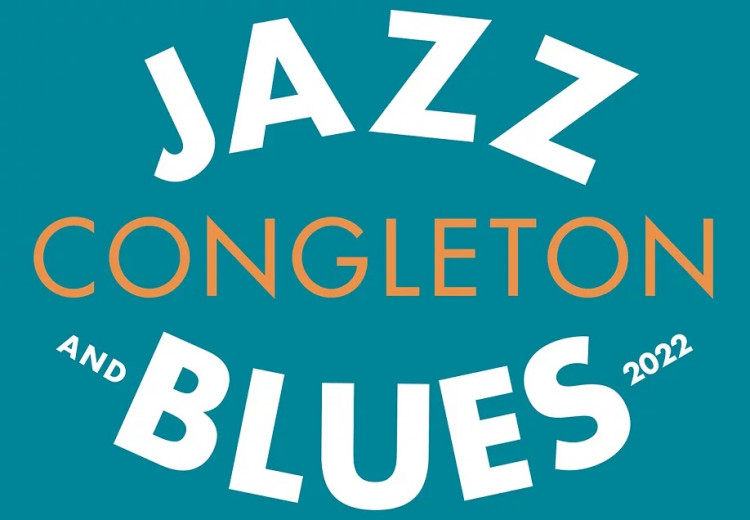 The Festival hopes to drum up community spirit, and music is the facilitator of making that happen. (Image - Congleton Jazz and Blues Festival)
Support the festival for FREE by giving them a follow on
Facebook
.
Congleton: Have you signed up for our FREE Friday weekly newsletter? It contains each week's essential Congleton news stories, and one EXCLUSIVE article?
Close to 4000 of you have signed up already. Simply enter your email address in the shaded box below or on this link.
Free from pop-up ads, or unwanted surveys, Congleton Nub News is a quality online newspaper for our town.