Congleton resident on why the town should get involved with the 'SAVE DANES MOSS' campaign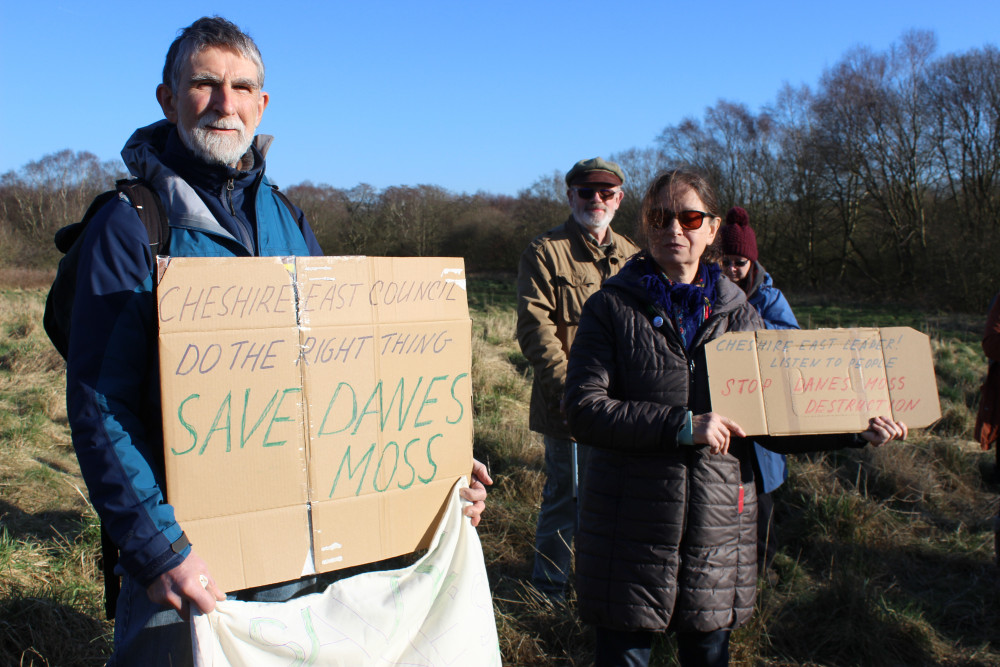 Dr Speed (left) at the affected site earlier this year. (Image - Alexander Greensmith / Congleton Nub News)
A man who lives in Congleton has encouraged his fellow townsfolk to get behind a campaign to save green land near a local nature reserve.
Dr Barry Speed and the 'SAVE DANES MOSS' campaign wants to urge councillors to rethink plans to build hundreds of houses on the fringes of Danes Moss Nature Reserves in South Macclesfield.
Despite being located in Macclesfield, the site is on a road towards Congleton, and could affect the biodiversity and air quality across the whole of Cheshire East.
Cheshire East Council - who are part-landowners of the site - want to build 950 homes and a link road on the edge of the Danes Moss Nature Reserve.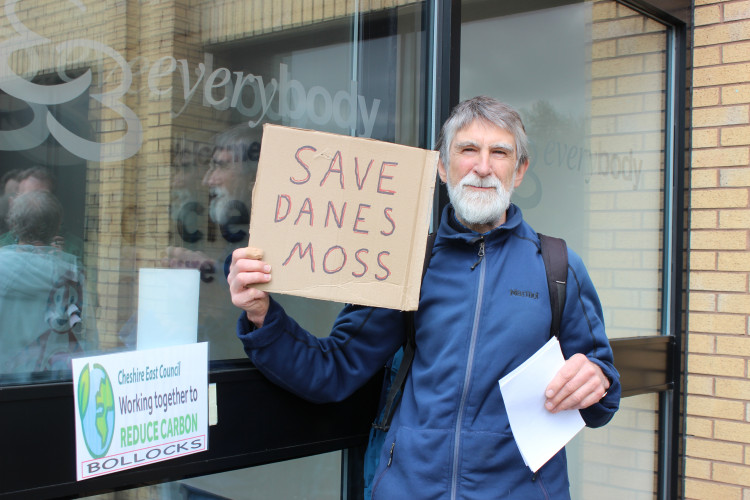 Dr Speed lives in the east of our town. The Congleton resident is also a University of Manchester Research Scholar and climate activist. (Image - Alexander Greensmith / Congleton Nub News)
Congleton resident Dr. Barry Speed believes if this development were to go ahead, Cheshire East would struggle to reach their goals of a carbon neutral borough by 2045.
"We are facing a huge biodiversity crisis. Particularly in Britain, which has one of the worst situations when it comes to biodiversity loss in the whole of the world, " said Dr. Speed.
"So every time we can save biodiversity, we have to do it, and that has to come into the council's calculations.
"They should be taking a leadership role. What should be at the top of the agenda? It's got to be climate."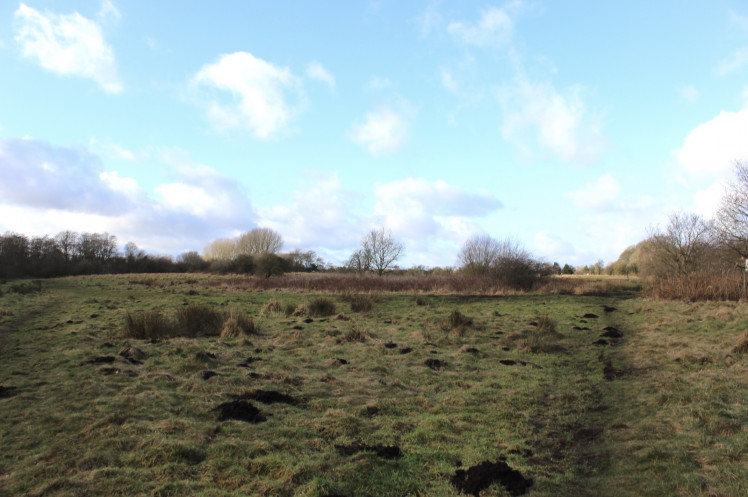 The site is popular with dog walkers, and is thought to contain over 220,000 cubic metres of CO2-storing peat, which if released could contribute to climate change. (Image - Alexander Greensmith / Macclesfield Nub News)
The SAVE DANES MOSS campaign group has estimated the 136 acre planned development site could contain as much as 72,195 tonnes of carbon, which could release up to 264,409 tonnes of CO2 into the atmosphere, contributing to climate change. Peat is a natural carbon sink.
"As we know, councils are strapped for money. The vote will come down to a matter of cost," added Barry.
"They are going to make £18 million extra if this site is developed, so it is a very difficult vote for councillors. That figure could provide better children's services, but I don't think that is the right calculation.
"If they do up the site, first of all they release a lot of carbon into the air, we have done some calculations as to how much carbon that would be.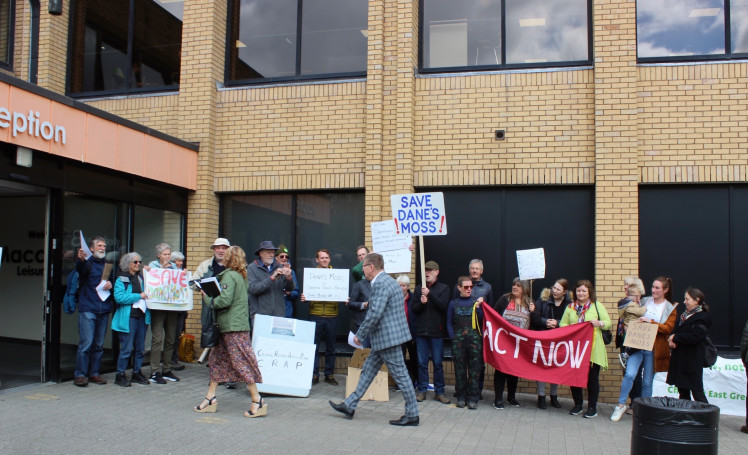 "More importantly, if the land was rewetted, not all of it but a proportion of it was rewetted - as it used to be 200 years ago - it will absorb carbon into the ground every single year.
Cheshire East Councillors Suzie Akers-Smith and Rob Moreton head into the Cheshire East Council meeting at Macclesfield Leisure Centre, on Priory Lane. (Image - Alexander Greensmith / Macclesfield Nub News)
"The current price of carbon on the world market is £100 a tonne, and that price will only go up when it gets more and more difficult to offset your carbon emissions.
"So, the price of carbon is going up and up, and it is already £100 a tonne the amount you could be absorbing, every year if it was rewetted could be worth far more than £18 million the council would get from the plans going ahead."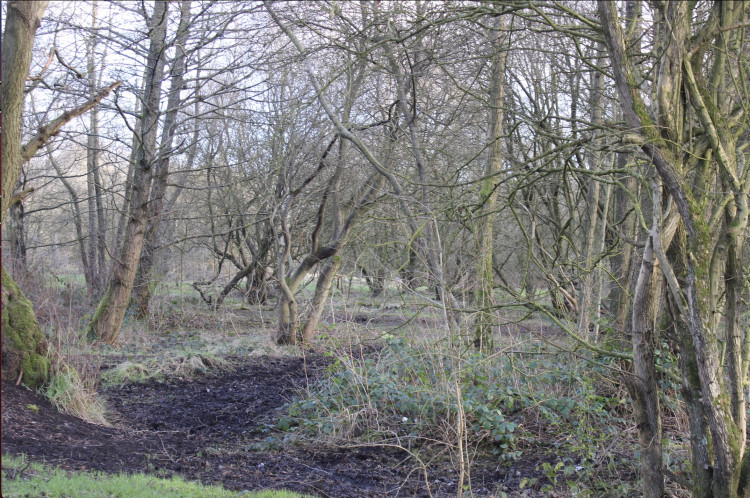 Rewetting the land could increase the carbon storage potential of the peat and grasslands. (Image - Alexander Greensmith / Congleton Nub News)
Dr. Speed proposed that the council could turn the site into a PR victory, by rewetting the land, and increasing the site's carbon storage potential.
A vote could take place within months. There is also a crowdfunder to mount a legal challenge if building on the site goes ahead.
Congleton institutions that are supporting the 'SAVE DANES MOSS' campaign includes Congleton Climate Action Group. Learn more about 'SAVE DANES MOSS'.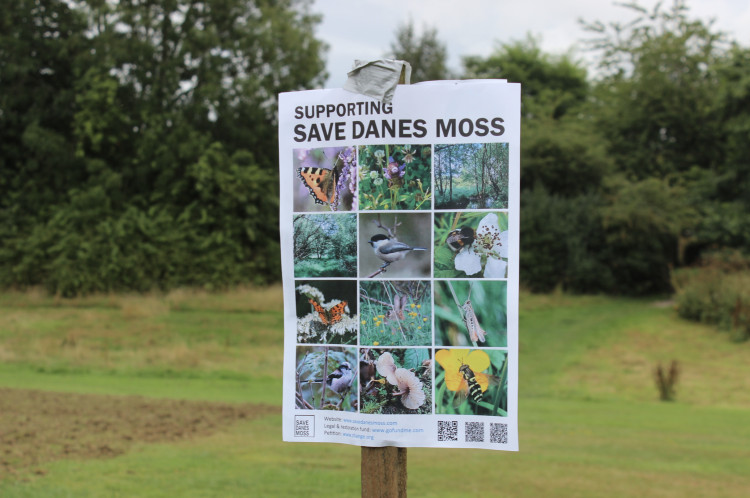 The site contains wildlife including the Willow Tit, which is the UKs fastest-declining bird. (Image - Alexander Greensmith / Congleton Nub News)
A 'SAVE DANES MOSS' protest will be held at 9am on Wednesday November 23 outside Macclesfield Town Hall. The event will also celebrate the launch of the campaign's alternative vision for the site, which celebrates nature and biodiversity.
Earlier this year, Cheshire East Council leader Cllr Sam Corcoran argued that even more peat could be released if Cheshire East Council didn't own the land, as it would be out of their control.
The Cheshire East leader also suggested " the government is insisting on allowing developers to dig up peat," which could imply that the campaigners efforts may be futile.
If you are unsure what Danes Moss or the redevelopment plans are, you can read more about it here, here and here.
See Also: Congleton causes encouraged to apply for grants funded by police seizures