New Congleton estate agent recognised as town's best
They have won in their first year of eligibility. Congratulations Stephenson Browne Congleton!
---
---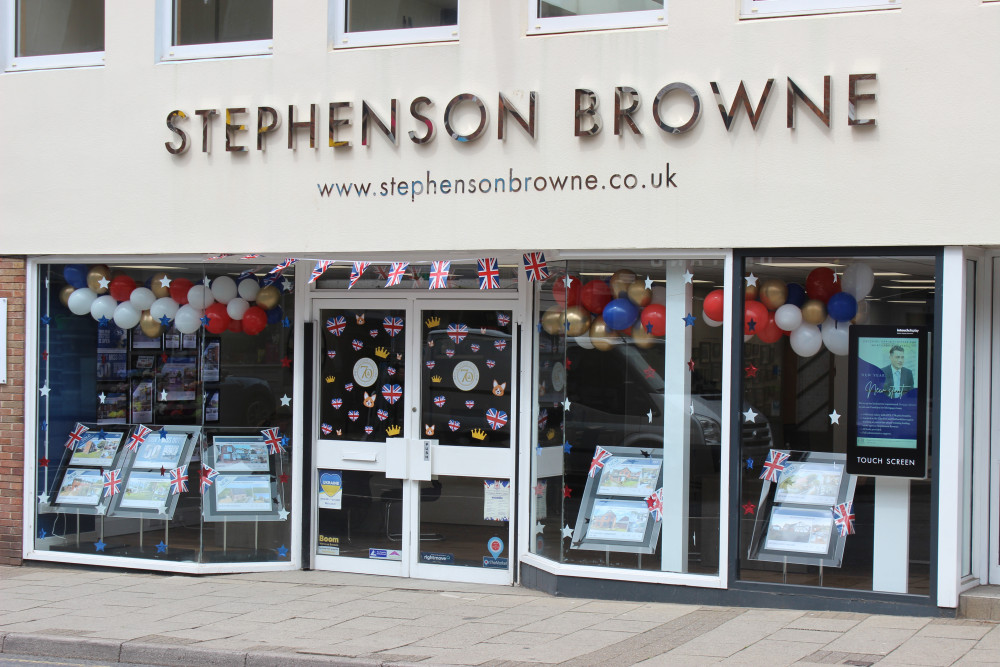 They have won in their first year of eligibility. Congratulations Stephenson Browne Congleton! (Image - Alexander Greensmith / Macclesfield Nub News)
There's a new top estate agent in Congleton, according to the British Property Awards.
High Street's Stephenson Browne Congleton have won this year's British Property Award Gold Winner for Estate Agent in Congleton.
The award is a remarkable feat when you consider that they have only been open for five months, and only focus on house sales.
Stephenson Browne Congleton Sales Director Craig Whitney commended his team for their efforts in securing the win.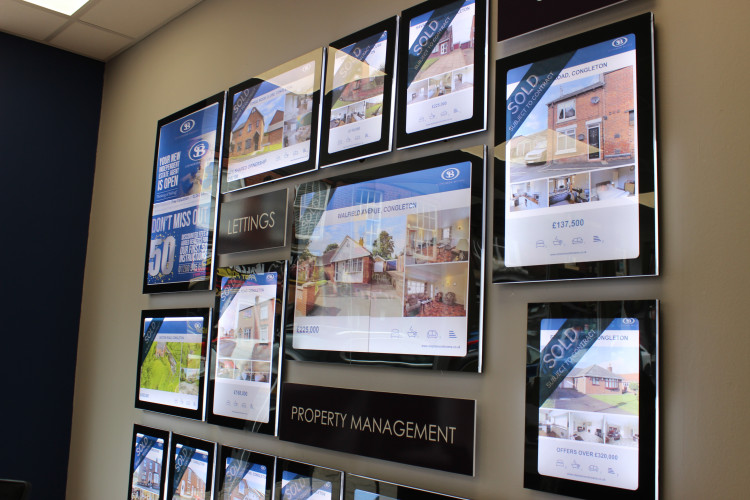 Five mystery shoppers judged the High Street estate agents to be the best in town. Congrats Stephenson Browne! (Image - Alexander Greensmith / Congleton Nub News)
"To have this awarded to us having been only open for five months, shows the result of hard work and service the team has provided", he said.
"It is especially a great achievement in a challenging market, where most stocks for agents are at a record low.
"It is nice to have the award to back up what we've been telling our clients, in terms of the quality of what they receive.
"To be acknowledged by one of the most prestigious awards in the UK property industry in such a short space of time is amazing.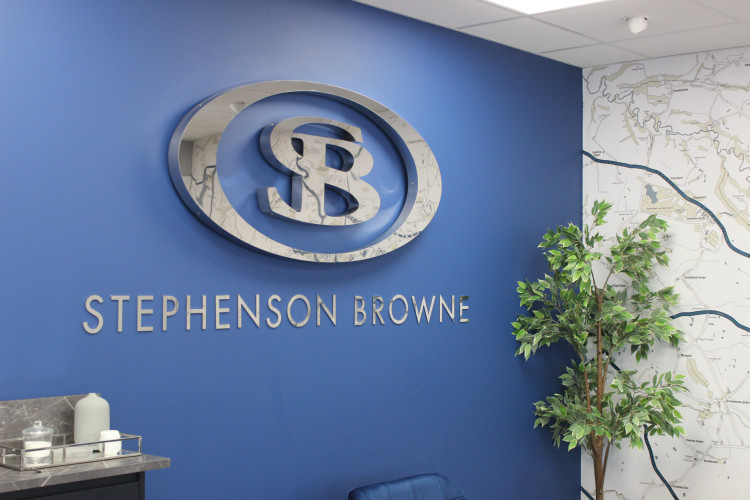 "We were shortlisted in May after the first round of mystery shopping. And there were five mystery shoppers in total. Each time, we scored five out of five."
Their team performed outstandingly throughout the extensive judging period, which focused on customer service levels.
Stephenson Browne Congleton have now been shortlisted for a number of national awards which will be announced later in the year. They're also in the running for a standard of excellence award (ESTAS),
"There are some very good estate agents in Congleton," added Craig.

Congratulations to the community-driven estate agents! (Image - Stephenson Browne Congleton)
"So to be amongst them and recognised with this award is a testament to everyone here. All four of us, Tash, Ell and Lou have been involved in the process. This has been a real team effort.
"I've had compliments for all members of staff, whether in a market appraisal or carrying out a viewing. It is great to hear that from the Congleton public, and to have that echoed by a top award panel, I am delighted.
"Let's hope it is one of many awards to add to the Stephenson Browne cabinet."
Congleton: You can view their current properties for sale here.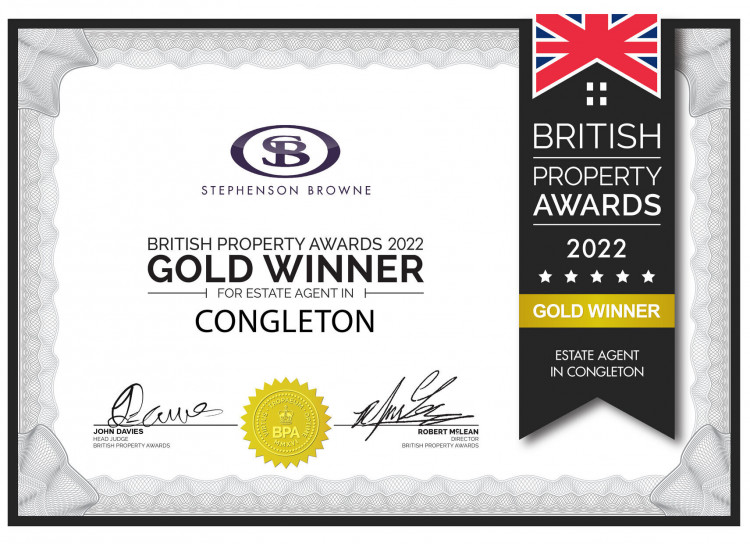 Agents who go that extra mile and provide outstanding levels of customer service are rewarded with a British Property Award, which acts as a beacon to highlight these attributes to their local marketplace.
Entrants are judged on 25 criteria, with independent secret judges a key part of the process.
Robert McLean from The British Property Awards told more on the methodology.
"Our awards have been specifically designed to be attainable to all agents, removing common barriers to entry, such as cost, to ensure that we have the most inclusive awards," he said.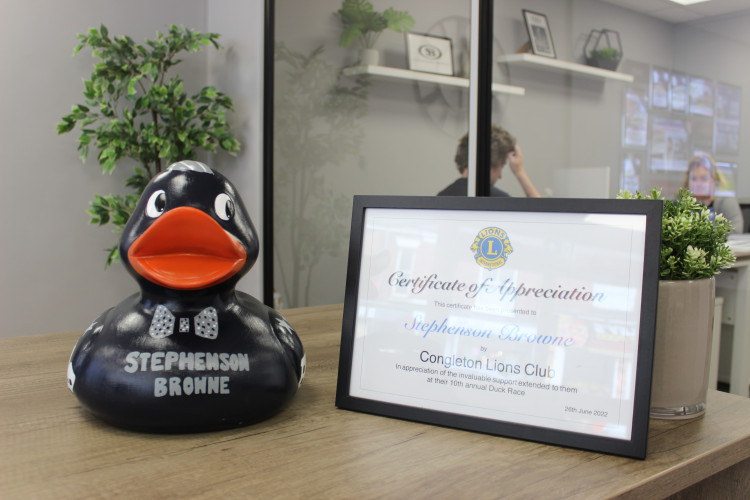 The property experts pride themselves on supporting the community. They sponsor Congleton Jazz and Blues Festival, support Congleton Grizzlies, and recently took part in the Congleton Lions Club Duck Race. (Image - Alexander Greensmith / Congleton Nub News)
"Our awards have also been designed to remove any opportunity for bias or manipulation.
"If an agent has been attributed with one of our awards, it is simply down to the fantastic customer service levels that they have demonstrated across a prolonged period of time.
"Winning agents should be proud that their customer service levels provide a benchmark for their local, regional and national competition".
Stephenson Browne Congleton are located on 21 High Street. You can call them about selling - or buying - a home in Congleton on 01260 545600.
Congleton's newest estate agent even won a more light-hearted award last month, coming second in Congleton Town Council's shopfront competition for The Queen's Jubilee.
Congleton: You can learn more about the people who helped win the latest award by clicking here.
Please click here to access the Congleton Nub News Property Section.
Got a business to promote in Congleton? Advertise it for FREE on our Local List.
Congleton: Have you signed up for our FREE Friday weekly newsletter? It contains each week's essential Congleton news stories, and one EXCLUSIVE article?
Close to 4000 of you have signed up already. Simply enter your email address in the shaded box below or on this link.
Free from pop-up ads, or unwanted surveys, Congleton Nub News is a quality online newspaper for our town.