Heritage and Heraldry: The stories behind the Congleton 750 flags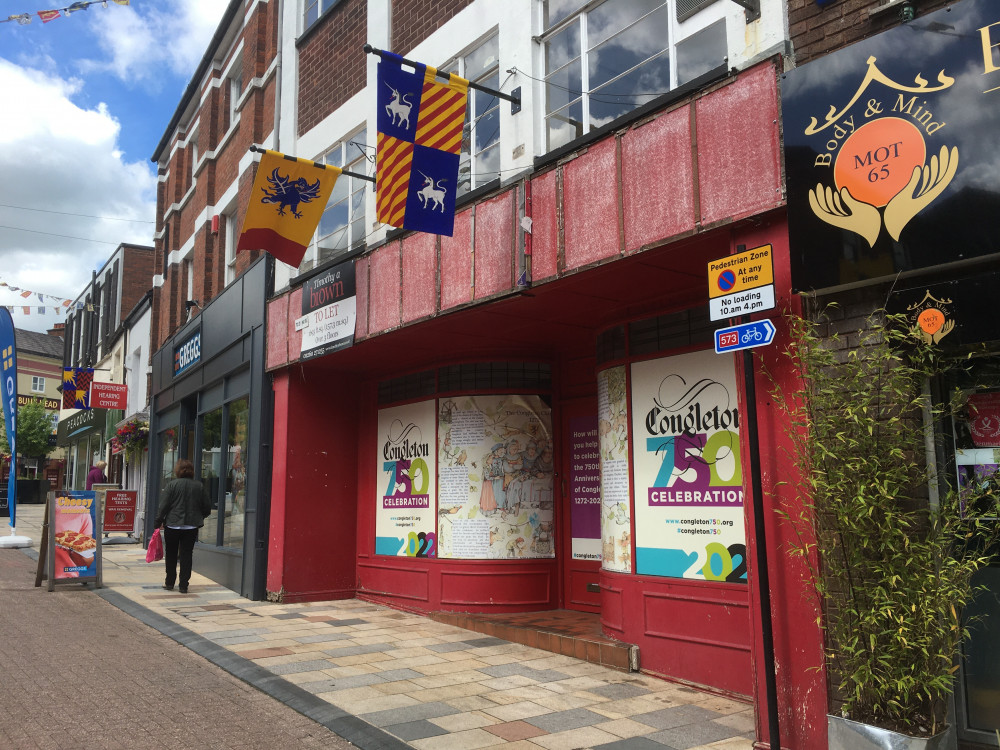 The flags are out in Congleton town centre, celebrating the 750th Anniversary of our 1272 Charter.
They are very pretty and decorative, but most people have no idea about the significance of the designs.
How do they relate to Congleton's heritage, and to basic heraldry? Why, for instance, do three of the four designs of banner along Mountbatten Way show lions?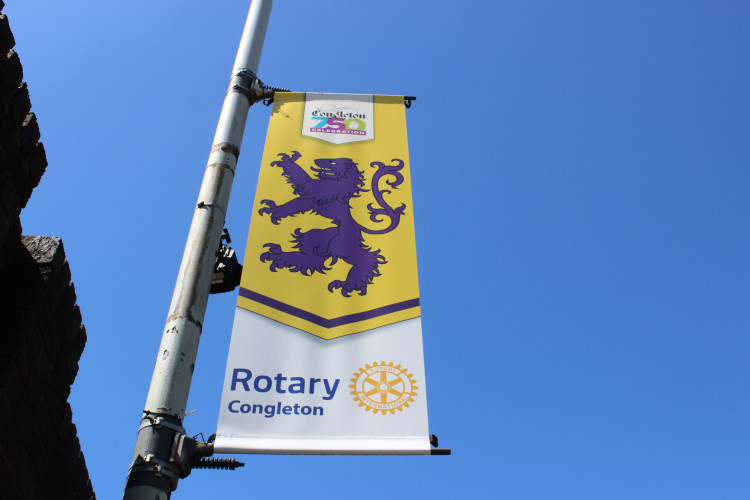 A banner on Mountbatten Way. (Image - Alexander Greensmith / Congleton Nub News)
All four banner designs are genuine coats of arms. But whose?
One of them is Congleton Town Council's coat of arms, as found on the circular top of the black fingerposts around the town centre. These arms were granted only in 1967.
For several hundred years previously, the arms included the black and white shield shown on Town Bridge. Why did they have to change? Where in town can you see the old arms carved in wood? And where in stone?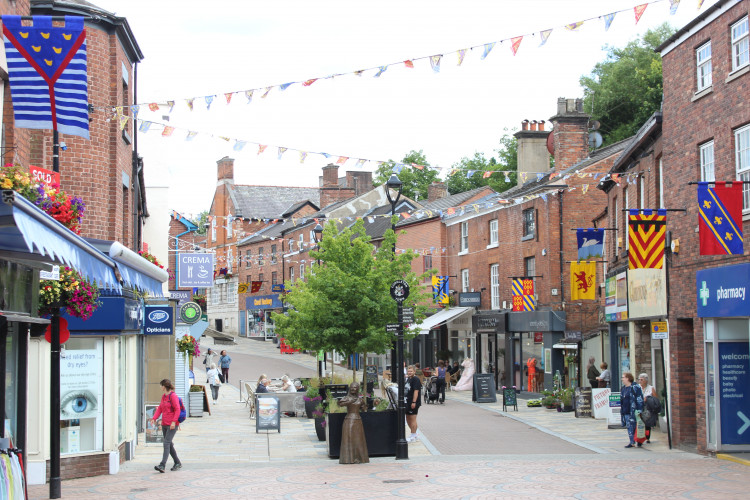 The town centre flags do not represent coats of arms – with one exception, which mimics one of the banners. Can you spot which one?
However, most of the flags do display many of the simple shapes and designs used in heraldry.
Several flags include a chevron, a fess, a pale, a bend (which, confusingly, is actually straight), or a label. What's the difference between these shapes?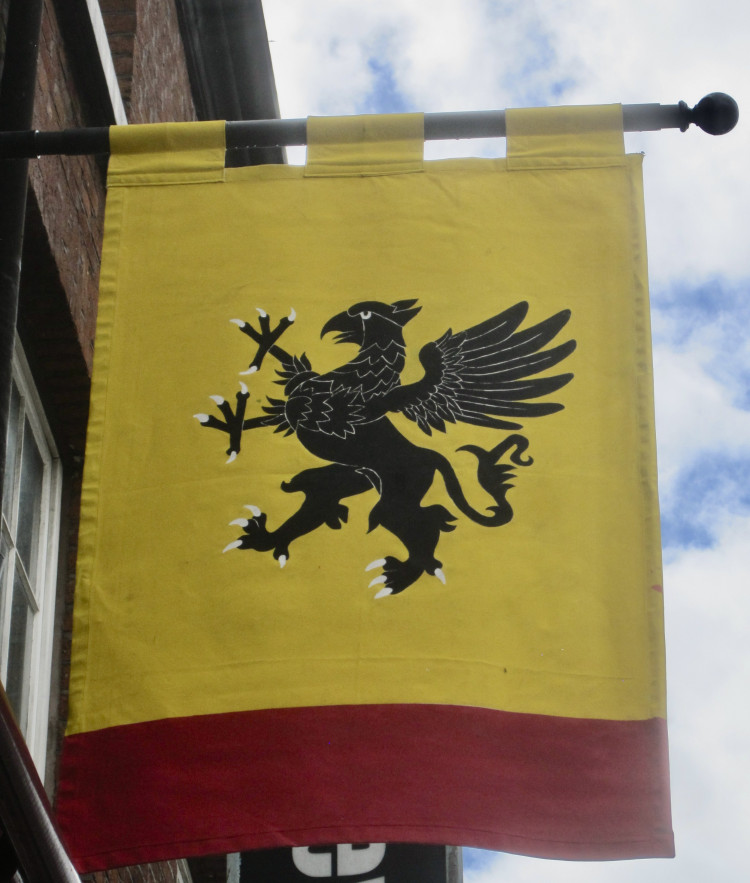 You can find six different mythical creatures, including the one illustrated, hanging above the shops. What are they? And which ones have the honour of being Queen's Beasts? There's even half a horse with webbed feet instead of hoofs! What's the other half?
From myth to fairy tale. You know that Cinderella's slipper was made of glass – right? Wrong! It wasn't. "Glass" is a mistranslation. So what's that got to do with our town flags?
Intrigued? You can find out the answers to all these questions, and many more, by picking up a free copy of the Heritage & Heraldry Trail booklet from the Town Hall Tourist Information Centre.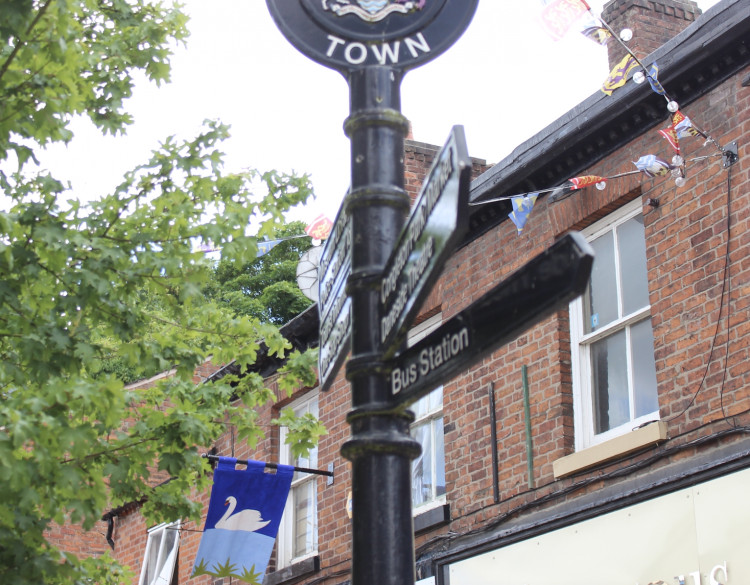 Congleton: Which town centre flag is your favourite?
You can also pick it up from Congleton Library, The Old Saw Mill, or the Young Pretender.
The booklet will take you on a self-guided tour around the town centre, pointing out items of heritage interest, and teaching you some basic heraldry en-route. It also contains a photo of the 1272 Charter, with a translation of its first few lines.
The town centre flags have been hand-painted by volunteers from Congleton Community Projects. The flags and the Trail booklet were funded by a Heritage Lottery Fund grant. The banners were sponsored by various local organisations and businesses.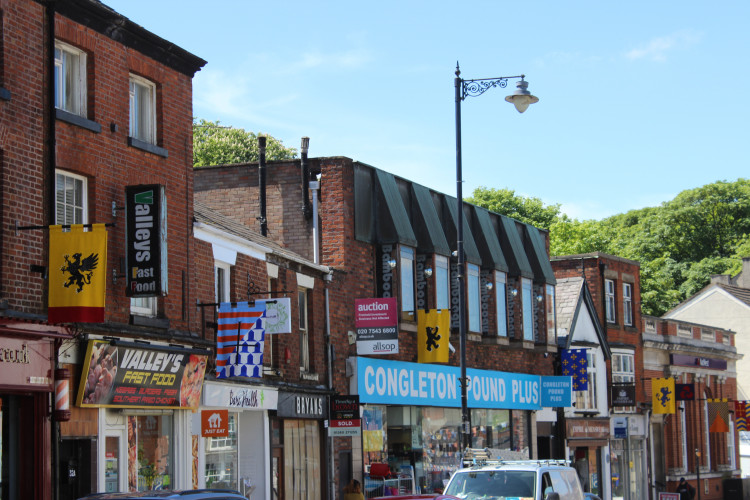 If you are interested in the Trail, but unable to walk the route (about one mile), you may like to join a seated version instead.
Mike Tingle, the Trail author, will give a slide presentation showing many of the flags, with explanations of the heraldry, in the Library downstairs meeting room at 10:30 am Monday August 15 – repeated at 2 pm Wednesday August 25.
Entry is free. Donations to Congleton Community Projects would be welcome.
This article was nubbed to Congleton Nub News by Mike Tingle. You too can write your own articles for Congleton Nub News by clicking the black 'Nub it' button on our homepage.
Got an event to promote in Congleton? Advertise it for FREE on our What's On page.
Congleton: Have you signed up for our FREE Friday weekly newsletter? It contains each week's essential Congleton news stories, and one EXCLUSIVE article?
Close to 4000 of you have signed up already. Simply enter your email address in the shaded box below or on this link.
Free from pop-up ads, or unwanted surveys, Congleton Nub News is a quality online newspaper for our town.