Congleton Pride team attends United Reformed Church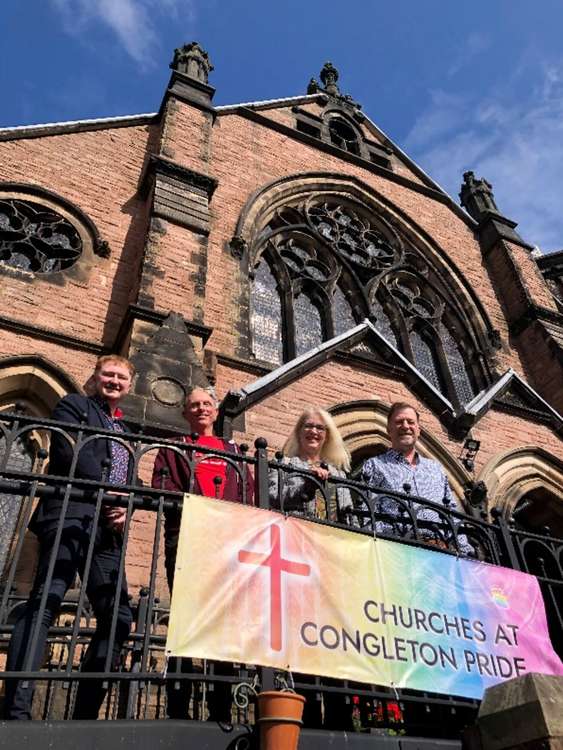 The pride team arrives at URC. From left: James Cheffings, Shaun Radcliffe, Cllr Kay Wesley, Mike Wesley.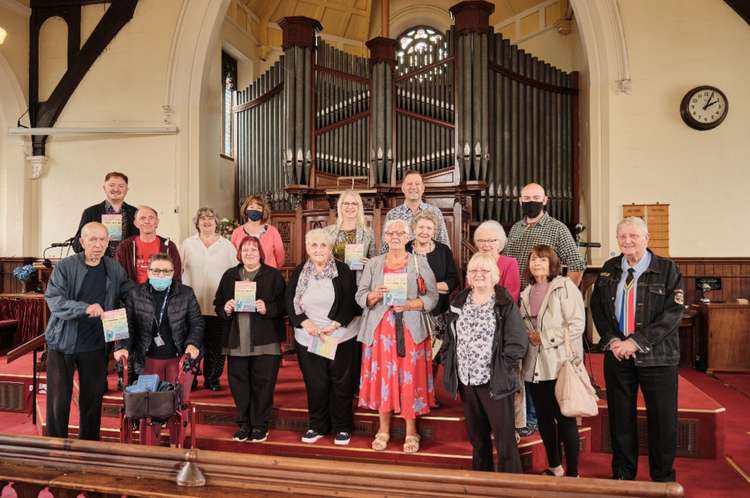 Members of The URC congregation support pride (Dorothy Donald is front row, fourth from left).
Representatives from the Congleton Pride charity attended morning worship at Congleton United Reformed Church on Sunday as a gesture of friendship in the run up to the Congleton Pride event on 21st August.
The URC has shown local leadership in acceptance of the LGBTQ+ community by welcoming everyone who wants to practice Christian worship and has been conducting same-sex marriages for some years.
The Rev. Murray George of URC has been a vocal supporter of pride and has attended several meetings with the group to explore how to drive more inclusivity and tolerance.
Sunday's service was conducted by Dorothy Donald and the sermon discussed the practice of Holy Communion, saying that no-one should be excluded from taking part.
After the service the pride group chatted to members of the congregation.
Shaun Radcliffe, a founding member of Congleton Pride, commented: "I have never felt so comfortable in church before, what a positive and informal atmosphere. Thank you for having us."
James Cheffings, another pride member, added: "It was a lovely service, and everyone has been so welcoming. I'm glad I came."
Kay Wesley, a Congleton Town Councillor and Trustee of Congleton Pride, said: "It was wonderful to feel such love and acceptance, a credit to the United Reformed Church.
"We have enjoyed working with Murray and it was a pleasure to meet the other members of the congregation. Dorothy summed it up for me, saying 'our doors are open to everyone – it is as simple as that'."
The URC, together with six other Congleton churches, will have a stall at the Congleton Pride 2021 event in Congleton town centre from 10:15am to 5:30pm on Saturday 21st August.