Congleton man's quality of life improved 'dramatically' by health programme near Sandbach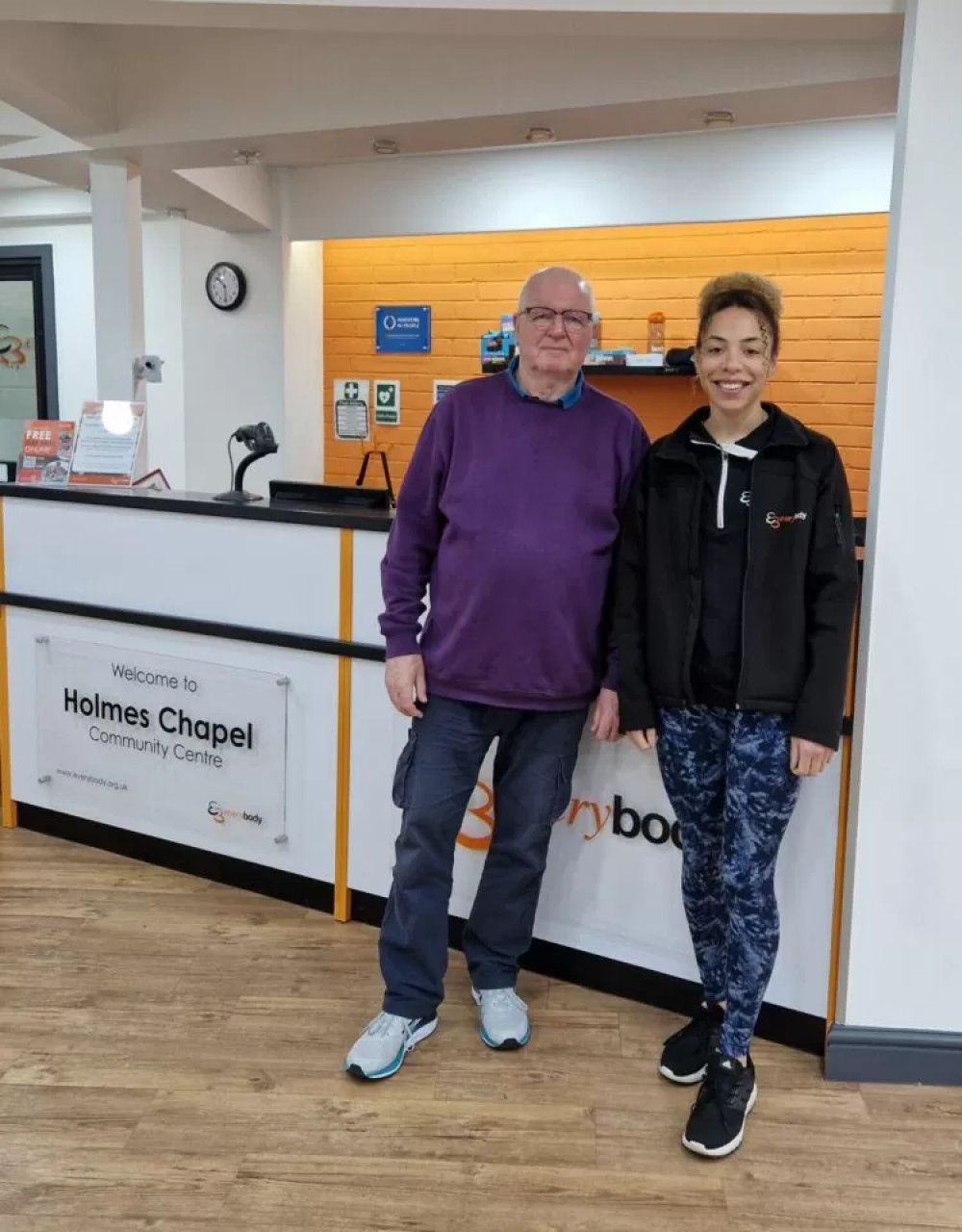 Terry with Vicky at Holmes Chapel Leisure Centre (Photo: Everybody Health and Leisure)
A Congleton man has lost a stone in weight, reduced his waistline and his BMI levels - thanks to a programme designed to help diabetes sufferers.
Diabetes UK has revealed that the number of people living with diabetes has topped five million for the first time.
Now Everybody Health and Leisure, which operates 16 leisure facilities in Cheshire East, including Sandbach and Alsager, has launched a scheme to help.
Terry Shufflebotham, a type 2 diabetic who lives in Congleton signed up for Everybody Health and Leisure's 12 week Exercise Referral programme, lowering his diabetic medication, at Holmes Chapel Leisure Centre.
Before starting the programme, Terry was inactive and sedentary, achieving 0 days of moderate exercise.
Since taking part in the programme Terrys fitness has improved dramatically. He no longer gets out of breath as easily, attending Everybody's multi rehabilitation, 'Move it or Lose it' classes and the gym on a weekly basis.
Terry's health has improved physically and mentally – he has lost a stone in weight, his BMI went from 33.9 to 31.8, reducing his waistline by 10cm.
His blood pressure lowered from 176/81 (Hypertensive stage 2) to 123/67 (normal reading) and he plans to continue with the membership and maintain regular exercise.
"The biggest impact was achieving weight loss and liked the flexibility of the programme," said Terry.
"Vicky, specialist health advisor at Everybody Health and Leisure, has always kept in touch, and I have liked the regular reviews."
Kerry Shea, director of health and communities at Everybody Health and Leisure said: "We have seen some fantastic results from the programme, with 98% of participants increasing their levels of physical activity, 62% weight and BMI reduction and 76% reducing their waist circumference, some participants have even reversed their diagnosis."
She added: "We're saddened, but not surprised, that the number of people with diabetes has now hit the five million mark, with 90% of those being type 2 diabetic.
"We know that type 2 diabetes can often be prevented with regular exercise and healthy eating. The benefits of exercise can't be overstated for people with diabetes, such as helping to control weight, lower blood pressure and cholesterol.
"Once an individual has been diagnosed with type 2 diabetes and their condition is stabilised through the use of prescription medication, they are eligible to join Everybody Health and Leisure's exercise referral programme, a 12 week physical activity programme working with their dedicated Everybody Healthy Team."
For more details on the Everybody Exercise Referral programme please contact the Everybody Healthy team on 01270 685589 or email [email protected]