Congleton: Here's what Boris Johnson said in his resignation speech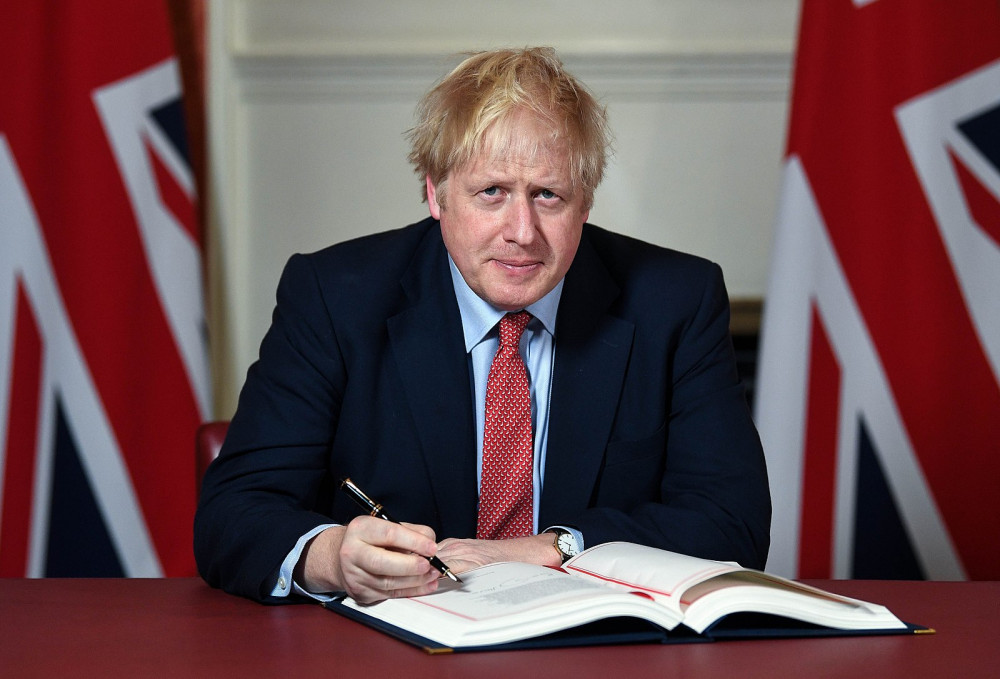 Congleton: Boris Johnson signing the Brexit Withdrawal Agreement. The Conservative highlighted Brexit as one of his favourite parts of his almost three-year tenure. (Image - bit.ly/3yN47qZ Open Government Licence v3.0 Unchanged)
Prime Minister Boris Johnson resigned in a five-minute speech outside No. 10 today.
In case you missed the half-12 speech, Congleton Nub News have typed up some of the highlights.
"It is clear now the will of the parliamentary Conservative Party that there would be a new leader and therefore a new Prime Minster," he said.
"The process of choosing that new leader should begin now. I have appointed a cabinet to serve until a new leader is in place.
"I want to say to the millions of people who voted for us [sic] thank you for the incredible mandate and majority, the best share of the vote since 1979.
"The reason why I've worked so hard on that mandate was not because I wanted to do so, but because I felt it was my job, duty and obligation to do, to continue to do what we promised in 2019.
"I'm immensely proud of what we've achieved from getting Brexit done to getting us all through the pandemic, with the fastest vaccine route in Europe, and leading the west to standing up to Putin's aggression in Ukraine.
"To the people of Ukraine,. We in the UK will continue to back your fight for freedom for as long as it takes.
"We must keep levelling up and unleashing the potential of every part of the Untied Kingdom. If we do that, we will be the most prosperous country in Europe.
"I regret to have not been successful and painful to see through so many ideas and projects myself. [Sic] But as we've seen at Westminster, when the herd moves it moves, and in politics no one is indispensable.
"I'm sad to be giving up the best job in the world.
"I want to thank YOU, the British public for the immense privilege you have given me.
"From now until the new PM is in place, your interests will be served, and the government will carry on."
Eyebrows may have been raised when he called the upcoming leadership process "Darwinian".
The PM also mentioned cutting taxes in his closing speech, as well as shouting out our "fantastic NHS", among family members and governmental departments.
He claimed to have travelled all over the country, despite never visiting Congleton since he became PM in July 2019.
The outgoing PM also praised 'British originality' and the natural beauty of the land.
"Even if times seem dark now, our future together is golden," he concluded.
"Thank you very much."
Congleton politicians have been contacted for their thoughts on the departing Prime Minister, and the hunt for a new leader.
There is still no word from Congleton's MP Fiona Bruce.
Got an event going on in Congleton? Advertise it for FREE on our What's On section.
Congleton: Have you signed up for our FREE Friday weekly newsletter? It contains each week's essential Congleton news stories, and one EXCLUSIVE article?
Close to 4000 of you have signed up already. Simply enter your email address in the shaded box below or on this link.
Free from pop-up ads, or unwanted surveys, Congleton Nub News is a quality online newspaper for our town.