All you need to know about Congleton Pride 2022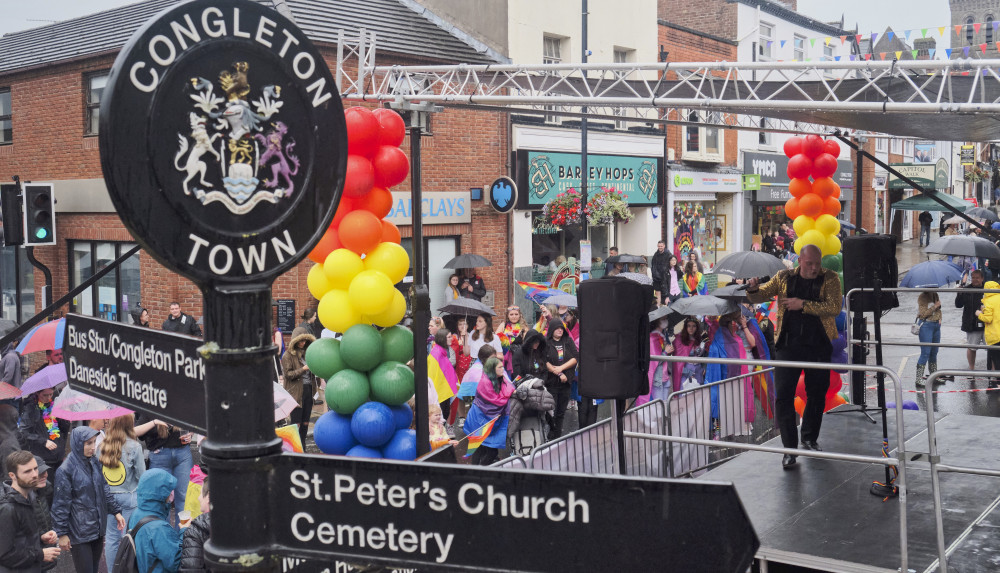 There's just a few days to go until Congleton Pride 2022! (Image - Andy Hofton)
The Congleton Pride team is preparing for its main annual event on 23rd July.
There will be fun and entertainment from 10am until late at night.
Congleton town centre roads will be closed to allow for a full day of family fun including live entertainment from an outdoor stage and a variety of stalls and activities throughout the day. The evening ticketed event (18+) will this year be in Congleton Town Hall, which will have Pride rainbow colours added to the already-festive heraldic banners hanging for the year-long Congleton 750 celebrations.
Pride is a festival that celebrates diversity and inclusion for LGBTQIA+ people, and in Congleton it has grown since the first Pride in 2019 to be one of the highlights of the summer.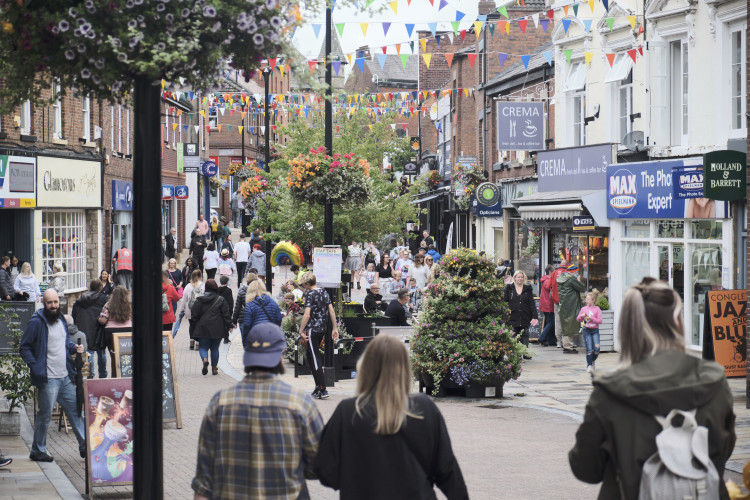 An ABBA tribute band are among the performers at the event. (Image - Congleton Pride)
Ronan Clayton, Chair of Congleton Pride, said "This year Pride will be our best ever with some fantastic acts on in the day and the evening, and lots of activities for old and young. We hope all of Congleton will come and join in to share this celebration and of course there will be rides for the children, food, drink and shopping as well as the live shows."
Pride Trustee Richard Walton added "We are very excited to have partnered with the Maker's Market this year to run the stalls for Pride, and there will be lots of your favourite crafts and food stalls available as well as the community stalls."
The Rev. Murray George of Congleton URC is organising the 'Churches at Pride' stall and commented "I am really delighted that, in this, the third year that Churches in Congleton have joined Congleton Pride, the number of churches represented continues to grow. We are looking forward to the day immensely."
The free outdoor stage show will begin with a kids' disco by Sam Wilson and magic show by Nick Barnes, followed by live performances from a wide variety of acts including Andy Hofton, singers Heather Marie, Chelsea Jade and MystiKay, acrobat Rowen Kimpton, the ever- popular Gay Gordons Scottish dancers, comedian Jed Stone as well as drag queens GemiTy, Fonda D and Stella Black.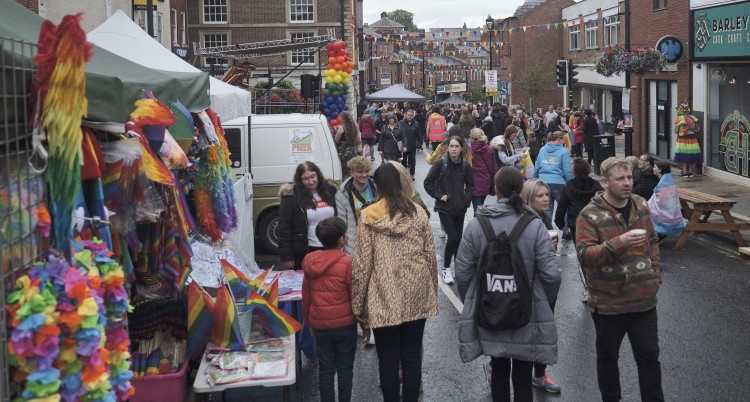 Pride month may be over nationally, but Congleton are keeping the party going with their own pride parade. (Image - Congleton Pride)
The evening event is a variety show headlined by ABBA tribute band Abbasolute Dreams and featuring No Fit State and Rowen Kimpton.
Local drag performer Stella Black who will host the evening event, said "I'm incredibly excited for this year's event and it's sure to be the biggest one yet!
"Seeing the town flooded with Pride flags and colour is a highlight of the year for me. Congleton Pride is something for everyone to enjoy and can't wait to see what the team has put together."
This year's event is sponsored by Pear Hospitality & Retail Group as Diamond Sponsor, with Loguru and Kanga Health as Platinum Sponsors and other business sponsors including Mark's Events, Senior Aerospace Bird Bellows and Barley Hops (the latter of which have their premises right outside the main event). .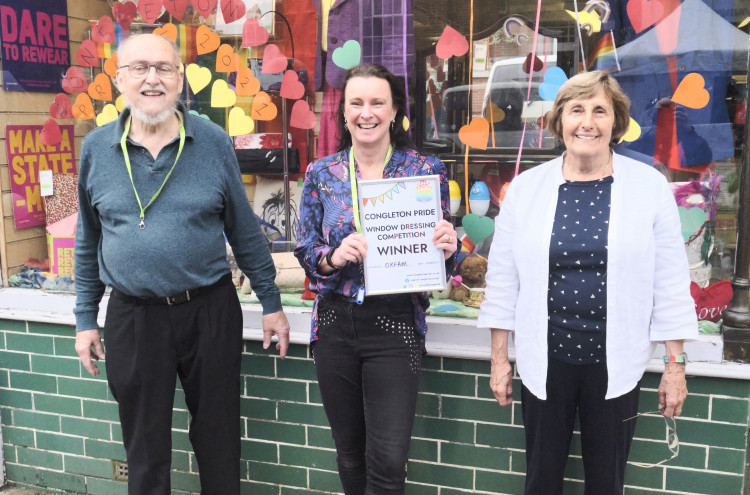 Shops are encouraged to deck out their windows in LGBTQIA+ friendly garb for glory. (Image - Congleton Pride)
Organisations providing financial support to the one-day Congleton event include Congleton Inclosure Trust, Congleton Town Trust, the Margaret Williamson Memorial Fund and Congleton Town Council.
Chair of Congleton Town Council's Community & Environment Committee Cllr Kay Wesley said "Thank you so much to the Pride team for putting this event together once more. Thanks also to the Maker's Market, the stall holders and sponsors without whom the event would not be possible. We are also grateful to the many volunteers, our Council officers for their support and the local shops who are decking their windows in Pride colours.
"Councillors and local organisations including Cheshire Constabulary and Cheshire Fire and Rescue will be there on the day, and the rainbow flag will fly from our Town Hall.
"Pride is about celebrating diversity and including and respecting everyone.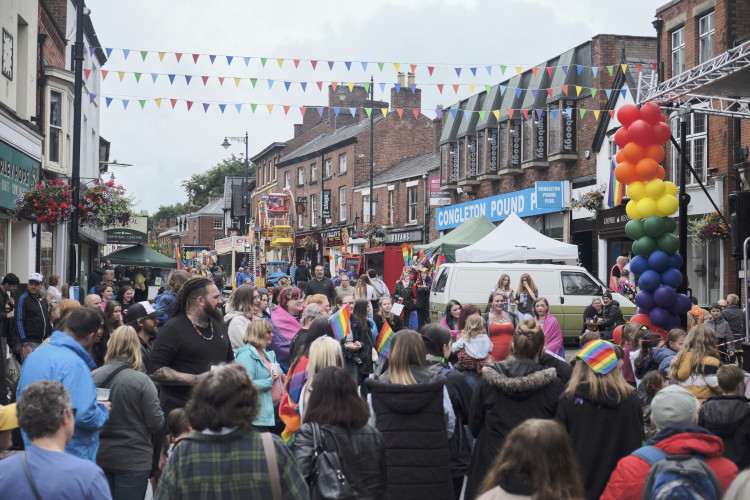 "The message is: be who you are and love who you love, and I hope everyone will join in and have a fantastic day."
Congleton Pride starts at 10am on Saturday 23rd July.
For more information and tickets for the evening event go to this link.
You can also join the Congleton Pride group on Facebook.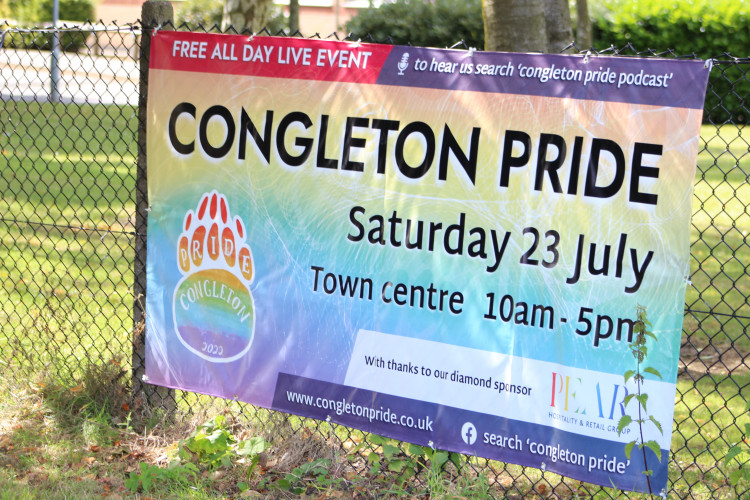 Pictured is a banner on Box Lane. (Image - Alexander Greensmith / Congleton Nub News)
Got an event going on in Congleton? Advertise it for FREE on our What's On section.
Congleton: Have you signed up for our FREE Friday weekly newsletter? It contains each week's essential Congleton news stories, and one EXCLUSIVE article?
Close to 4000 of you have signed up already. Simply enter your email address in the shaded box below or on this link.
Free from pop-up ads, or unwanted surveys, Congleton Nub News is a quality online newspaper for our town.