Macclesfield manufacturer scoops two accolades at recent industry awards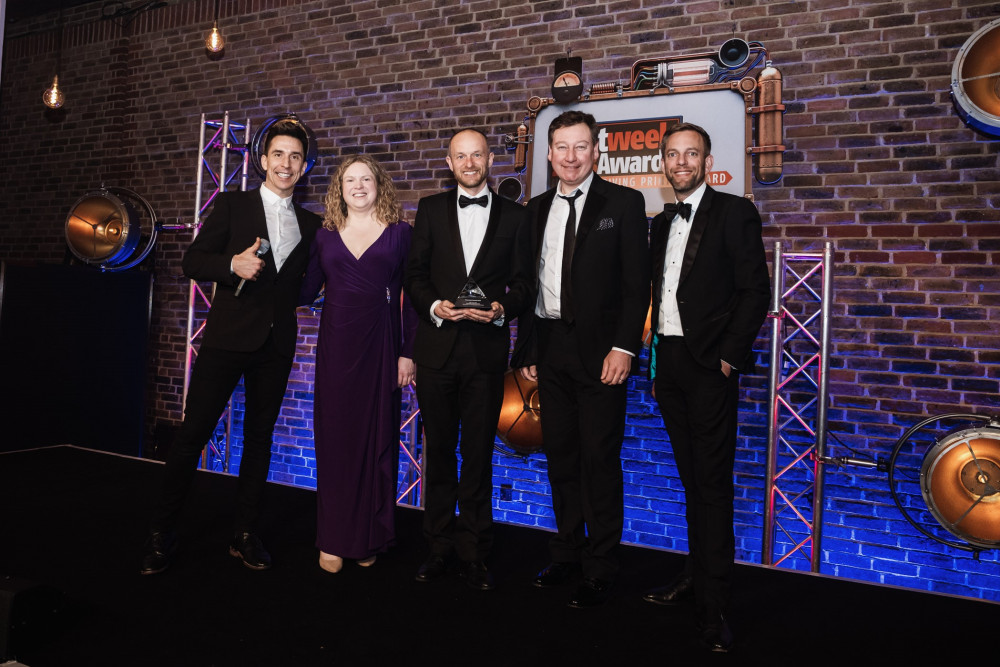 PCS representatives picking up the award at the awards gala from comedian, Russell Kane - middle three from left to right: Louise Ray, director of marketing & communications, Adam Unsworth, managing director, Paul Hansford, sales director (Image - PCS)
Macclesfield-based card manufacturers Precision Card Services (PCS) have triumphed as winners in not one, but two categories at the 2023 Printweek Awards.
PCS was crowned winner of the much sought-after SME of the Year award alongside the Innovation of the Year category.
Hosted by comedian Russell Kane, this key event in the print industry was attended by over 600 guests from all sectors of the UK print industry.
The SME of the Year category recognises outstanding achievements based on both the financial and business performances of companies. The Innovation of the Year category focuses on a company's continued innovation and agility within the market.
The company employs 34 people at its base at Tytherington Business Park, manufacturing 160 million cards per year. It posted a £5 million turnover last year.
The judges commented: "2023 is Macclesfield-based PCS's year, these guys are so far ahead of the curve it's unreal, the PCS team always set the bar high, but wow – what a year!"
Adam Unsworth, managing director of PCS commented: "I couldn't be prouder! We're very lucky to have such a hardworking team, so it's great to see them receiving the recognition they each deserve. Day-to-day tends to be a whirlwind, so to step back and reflect on what we have achieved in the last 12 months is very rewarding. And to win SME of the Year, which has alluded us for 10 years, is the icing on the cake."
Louise Ray, director of marketing & communications at PCS added: "We are absolutely delighted to have won two Printweek awards this year.
"It is a well-known fact that PCS has been after the elusive SME of the Year prism for 10 years now, so to have finally won it is a dream come true for the whole team and has provided such a boost to morale.
"Not forgetting the Innovation award - our work to produce a fully recycled and recyclable PVC card that has the same standards as traditional PVC is what we consider to be our most impressive innovation to date, and to have this recognised by our peers is such a fantastic accolade."