£5400 raised for Congleton charity Ruby's to help with cost of living crisis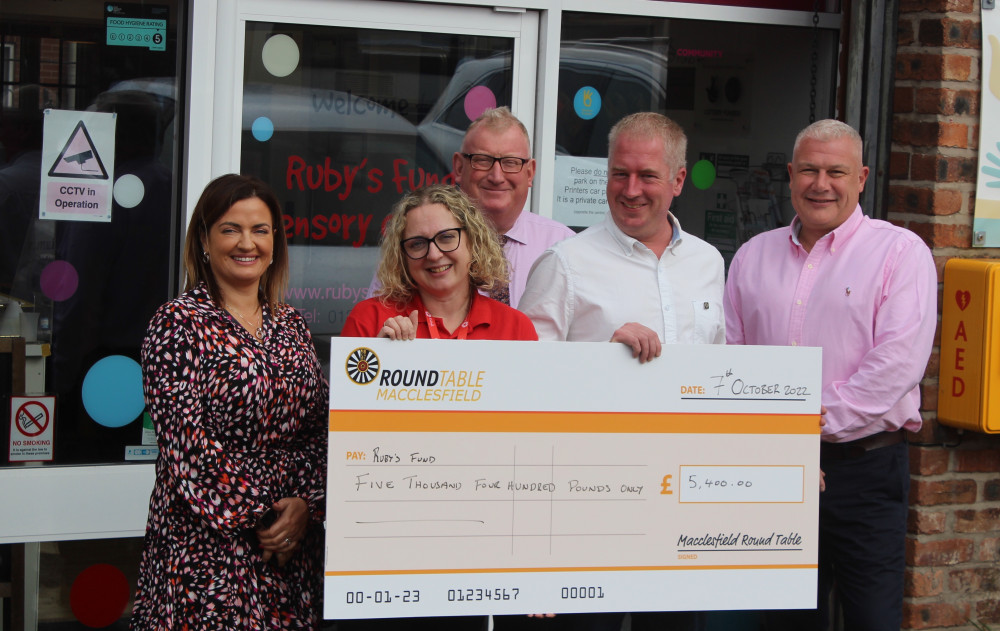 Left to Right: SAS Daniels'Justine Clowes, Ruby's Helen Davies, Macclesfield Beer Festival founder Micky Jones, Macclesfield Roundtable James Hogben and TrunkBBI Phil Cardwell. (Image - Alexander Greensmith / Congleton Nub News)
Local good samaritans and beer-drinkers have generated a whopping amount for a Congleton charity.
Macclesfield Roundtable, a volunteer-led collective of 18-45 year olds, have fundraised £5400 for Roe Street charity Ruby's.
The Meridan House-based charity helps children with special educational needs and disabilities.
Macclesfield Roundtable raised the money for Ruby's the help of real ale lovers of Macclesfield, as the money was raised through this May's Macclesfield Craft Beer & Gin Festival.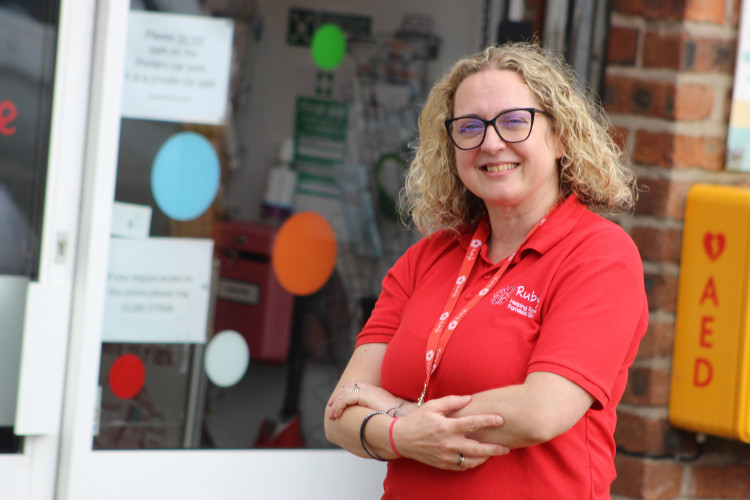 Helen Davies has worked at Ruby's for two years, but was a volunteer before then after the charity had helped her children. (Image - Alexander Greensmith / Congleton Nub News)
Organisers and sponsors of the event met with Ruby's Project Manager Helen Davies to present the cheque, and find out what the donation will be used for.
"Ruby's support families of children with special educational needs and disabilities [SEND]," she said.
"We also have a project that just supports families who need a little bit of extra support. They don't necessarily have to have disabilities.
"We do projects that support new parents to help them find a support network as well. And have a volunteer project where we assign family mentors to those who are struggling a bit, to prevent them from going into crisis.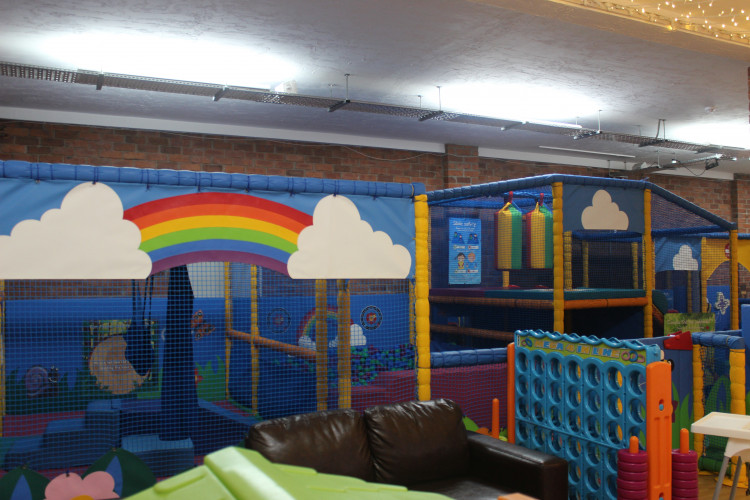 The downstairs soft play centre at Ruby's on Congleton's Roe Street. (Image - Alexander Greensmith / Congleton Nub News)
"Thank you to Macclesfield Roundtable for organising Macclesfield Craft Beer and Gin Festival, and choosing Ruby's as one of their charities.
"We're hoping the money can provide updates to our building to make it fully accessible for everybody. The downstairs play area is currently fully accessible but there is no accessibility lift to our upstairs space.
"For the cost of living crisis we are targeting to reopen our café to the public, for the first time since the first lockdown.
"We hope to provide very affordable hot meals over the winter, and also showing people how to cook. It can also be a space families can access [and play in] if they are struggling to heat their own homes."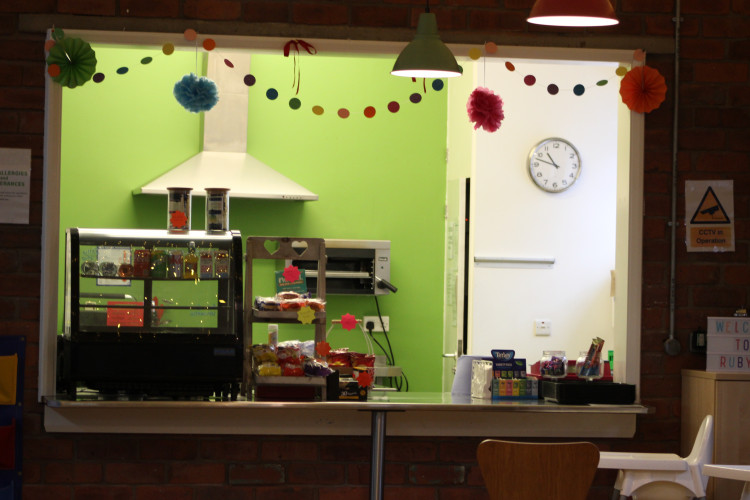 The Beer Festival funds hope to go towards reopening Ruby's community café, whcih was last opened to everyone in March 2020. (Image - Alexander Greensmith / Congleton Nub News)
Helen went on to detail how some more of the money could be used.
"We're also running a new project which will provide respite for SEND children and provide things like safe space beds, which are very expensive, and help particularly children with autism stay safe at night," she added.
"We are also known for our siblings evenings that we bring together in groups to talk and play in our soft play centre."
Helen, who has two children and one with profound disabilities, knows first hand the support Ruby's can give to local families.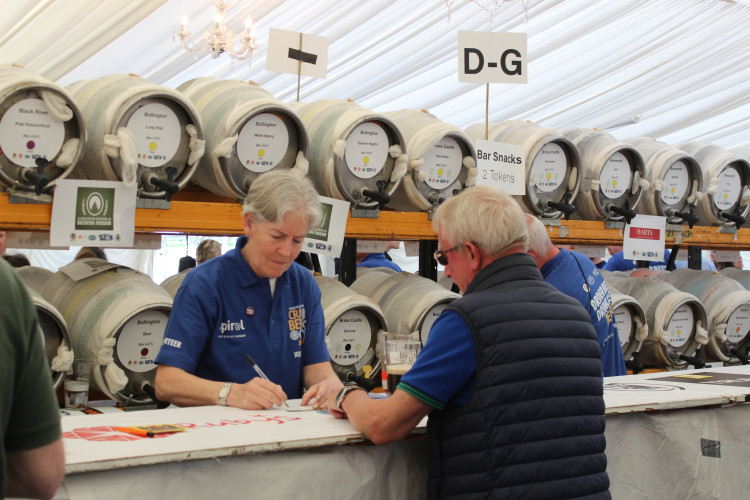 Macclesfield Craft Beer and Gin Festival chose two charities to raise money for this year, with Ruby's being one of them. The annual event has been running for over 30 years, and takes place at Macclesfield Rugby Club. (Image - Alexander Greensmith / Congleton Nub News)
"With my child people would stare at her, people would ask me and I wasn't ready to talk about it.
"But when I came here, it was a safe space and people understood.
"The first time my daughter came here she threw up, and I would have been mortified everywhere else, but people just understood and were so supportive here.
"It is a really special and safe place where you can share experiences that you can't share anywhere else.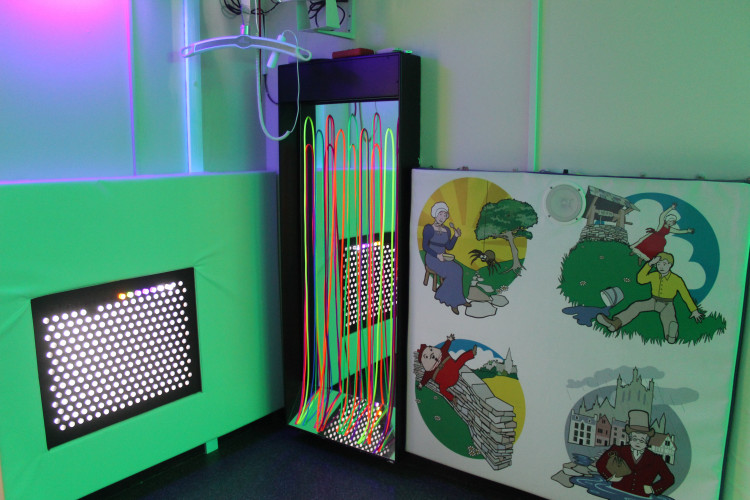 Ruby's also has a sensory room for children to come and have some downtime in. (Image - Alexander Greensmith / Congleton Nub News)
"Please help us carry on what we do. I myself know that my family unit has stayed together because of Ruby's. Parents and families who come here that say the same."
Ruby's benefits families across all of Cheshire East. They are based in Congleton, but we have in Macclesfield, Wilmslow and Crewe.
Ruby's are continuing to raise funds for the public reopening of their community café, and in support of their new lift. If you'd like to donate to them, please click here.
Bollington resident James Hogben, who is a property surveyor by trade, has been part of Macclesfield Roundtable for five years. He is their Chair this year.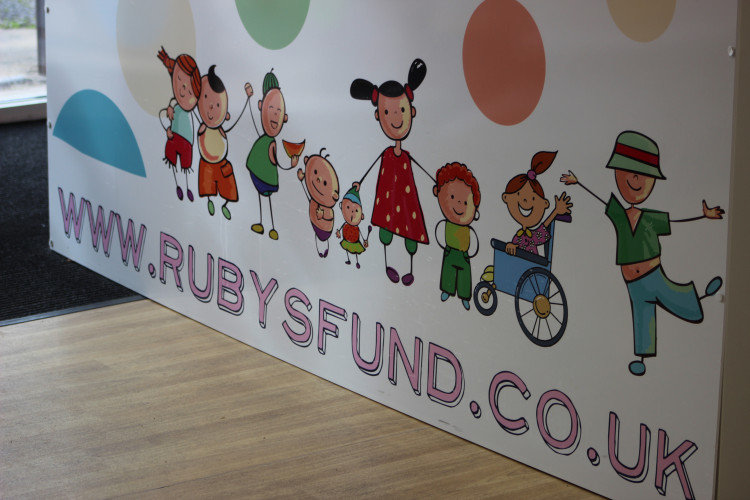 Their building includes a fully inclusive sensory centre & social café for children & young people with disabilities & additional needs. (Image - Alexander Greensmith / Congleton Nub News)
"The Beer Festival was a resounding success this year," he said.
"After two years away from COVID, everyone that we spoke to said it was 'a really good event. The atmosphere made it the most enjoyable Beer Festival yet.
"Thank you to the people of Macclesfield and our sponsors for supporting us. We're delighted to confirm that the Festival will return next year on May 25 and 26 2023.
"Other than Ruby's, we also raised thousands for Macclesfield animal charity Windyways, who also raised £2,000 themselves on the night through a market they had at the Beer Festival."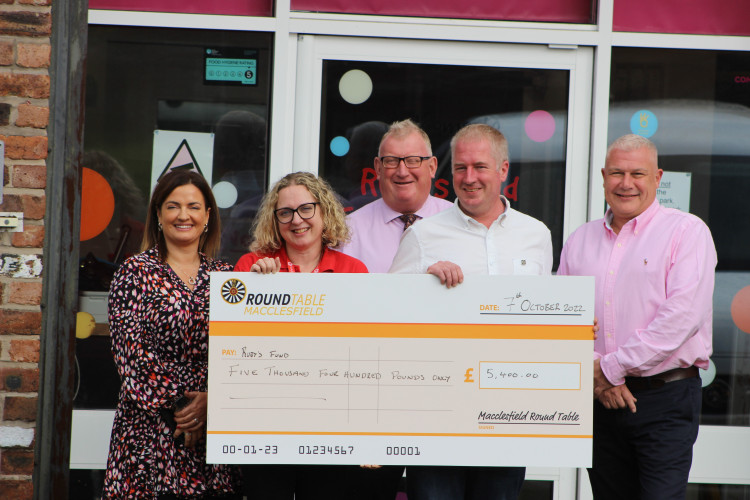 When compared to their 2021 income, £5400 represents 1.37% of Ruby's annual income. (Image - Alexander Greensmith / Congleton Nub News)
The event's sponsors TrunkBBI and SAS Daniels LLP (who have an office in Congleton) had this to say on the £5400 Ruby's donation.
"We've sponsored the Festival for over five years, and we will be doing so next year," said Justine Clowes of SAS Daniels Macclesfield.
"It is amazing to help raise money for the charities supported by it. It is lovely to hear what the Ruby's money raised is to be used for."
"The best thing about the Beer Festival is raising money for well-deserved causes," said Phil Cardwell of TrunkBBI.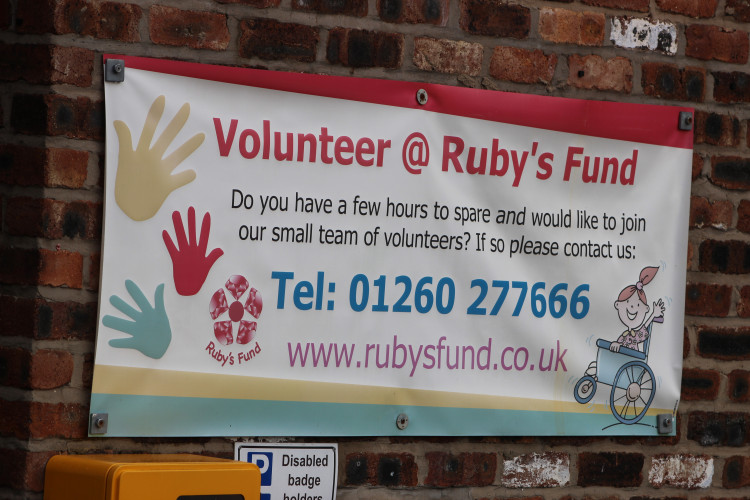 Ruby's has over 30 volunteers, but could always use an extra helping hand. (Image - Alexander Greensmith / Macclesfield Nub News)
"We've sponsored them for the last four occasions, and hope to be invited to do so next year."
Macclesfield Roundtable is a group for working people aged 18-45, who want to do good and make new friends.
As well as a business networking and social group, they also support local charities.
If you'd like to sponsor next year's Macclesfield Craft Beer & Gin Festival, and make a real difference in our community, please email [email protected].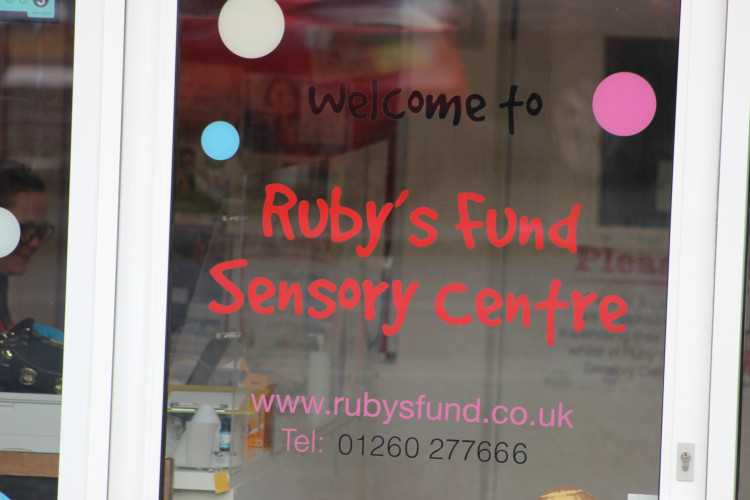 Ruby's is located at Meridian House, Roe St, Congleton CW12 1PG. (Image - Alexander Greensmith / Macclesfield Nub News)
Got a business to promote in Congleton? Advertise it for FREE on our Local List.
Congleton: Have you signed up for our FREE Friday weekly newsletter? It contains each week's essential Congleton news stories, and one EXCLUSIVE article?
Close to 4000 of you have signed up already. Simply enter your email address in the shaded box below or on this link.
Free from pop-up ads, or unwanted surveys, Congleton Nub News is a quality online newspaper for our town.