Congleton Women's Equality Party protest 'chronic underinvestment' in NHS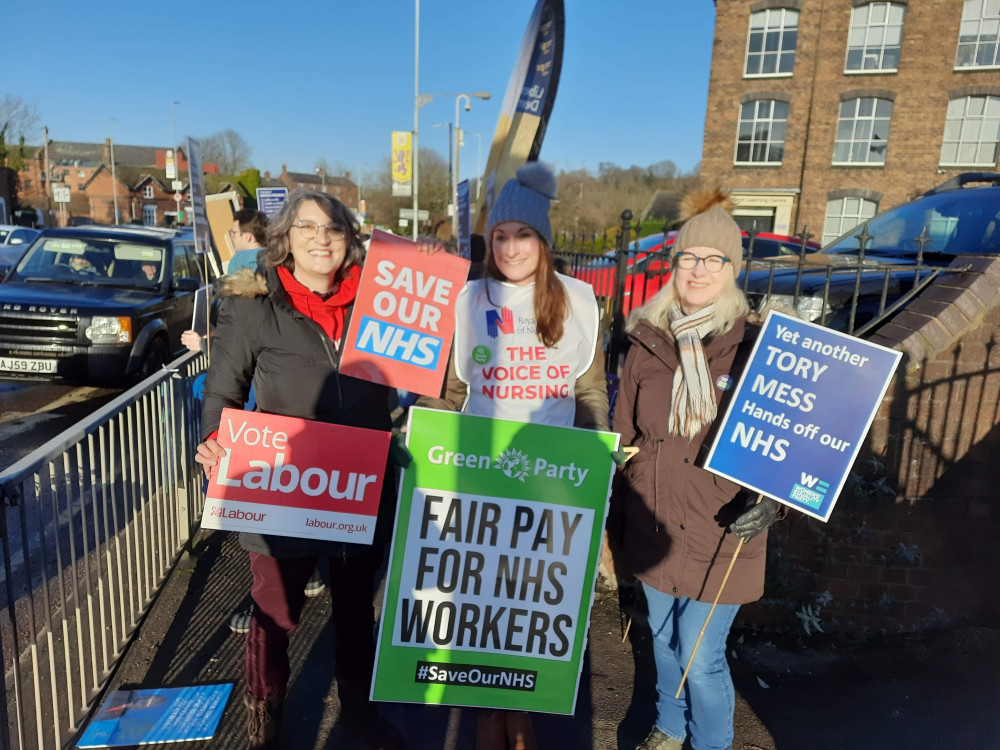 The cross-party protest was organised by the Women's Equality Party, who have one elected Congleton Town Councillor. (Image - WEP Cheshire East)
A demonstration about the state of the NHS led by the Women's Equality Party outside the office of Fiona Bruce MP at the weekend garnered huge support from other political parties and from the public.
The message was to protest about the government's mismanagement of the service, which has led to critical under-staffing and exhausted healthcare workers taking strike action due to low pay and impossible workloads. Recent reports have highlighted the impact of under investment on patient care, with ambulance response times at a record high and evidence that lives are being lost as a result.
Cllr Kay Wesley, Leader of WEP Cheshire East, explained "The problems the NHS are facing are not due to the pandemic or to the cost-of-living crisis. These crises have simply exposed the weaknesses in a system that has been run down for twelve years. We have been promised six thousand more GPs, fifty thousand nurses and forty new hospitals, and none of these things have materialised.
"The reason we don't have our War Memorial Hospital Minor Injuries Unit in Congleton or additional medical centres to support new housing is simply because there are not the healthcare professionals to staff them, and the responsibility for this lies with the government.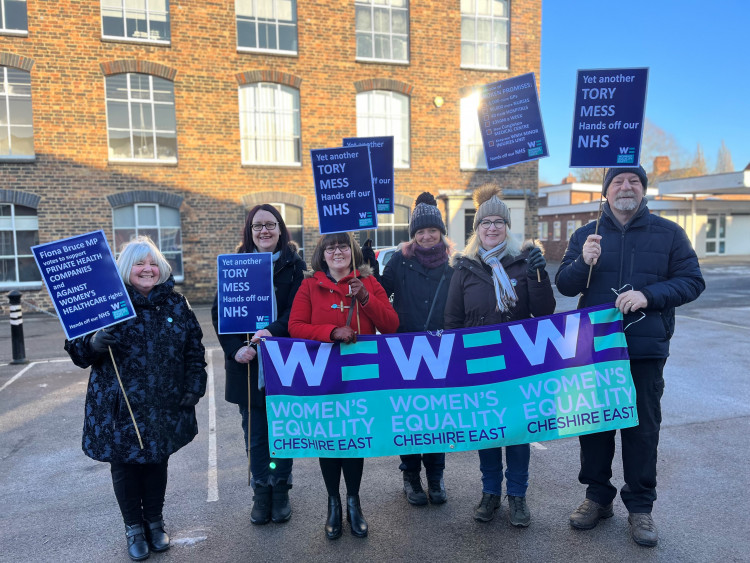 Their position goes against the government line that the current protests are due to the pandemic and the rising cost of living. (Image - WEP Cheshire East)
"As an example of chronic underinvestment, the government was told in 2016 that it should replenish its stocks of PPE as a precaution against a likely future pandemic, and it failed to do so. We all know the consequences of that decision."
The protest was attended by the Labour Party, the Liberal Democrats and the Green Party as well as the Women's Equality Party Congleton team. Members of the public and healthcare workers also joined in. Motorists along Mountbatten Way, including an ambulance driver, honked their horns in support throughout the two-hour demonstration.
Retired Midwife Sister Pam Dale attended the protest. She thanked the organisers, saying "I am so glad that the people of Congleton have stood up to express their outrage at the decimation of our health services. I worked in the NHS from the age of seventeen until retirement. I'm nearly incandescent with rage about what is happening, and everyone I talk to feels the same.
"The government seems to be in complete denial of their destruction of the NHS. People are dying at the hands of this government as they force privatisation on the health of this country. They really think we are too stupid to see what is happening, but we are not."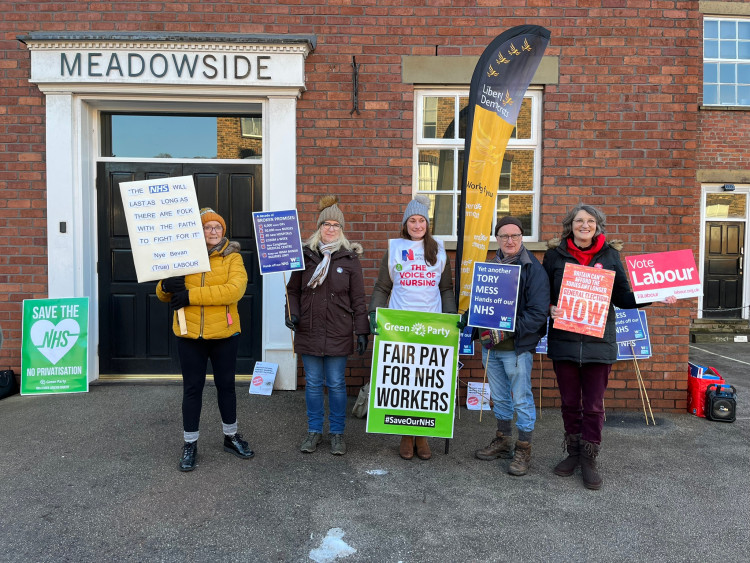 It is not the only protest they have held outside Conservative MP Fiona Bruce's office in recent months. (Image - WEP Cheshire East)
Cllr Wesley thanked everyone for joining, observing that "It just goes to show that parties can work together if they share a common cause, despite political differences. I hope that our residents can see that there is a groundswell of determination to change things here in Congleton and across the country, and that they will use their votes at future elections to bring about the change we need, in this case to rebuild our National Health Service."
The protest came just two days before a national ambulance worker strike.
NHS nurses will go on strike in Congleton and across the country on February 6.
Health Secretary Stephen Barclay has argued in recent times that increasing pay would impact overall NHS patient backlogs caused by the pandemic.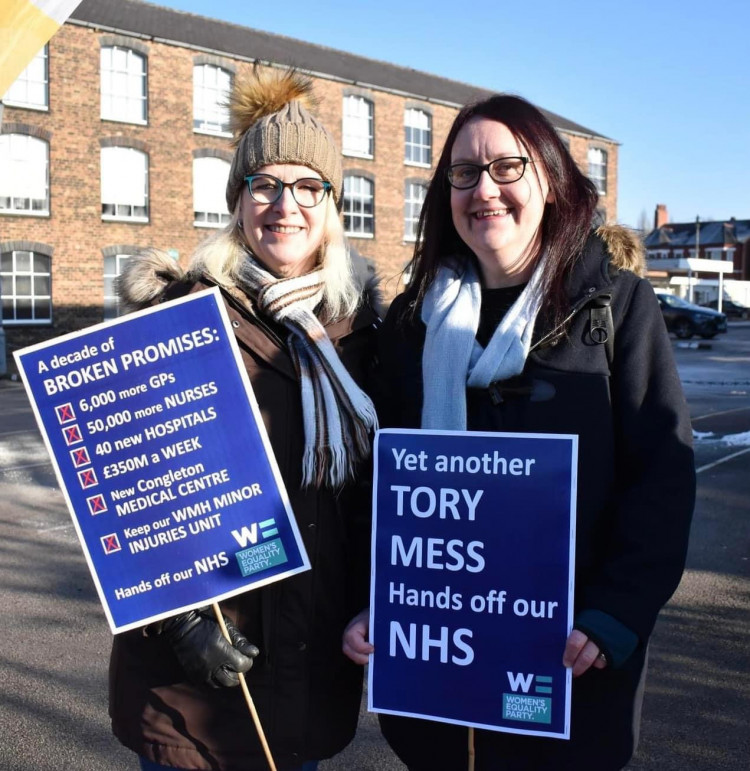 Got a business to promote in Congleton? Advertise it for FREE on our Local List.
Congleton: Have you signed up for our FREE Friday weekly newsletter? It contains each week's essential Congleton news stories, and one EXCLUSIVE article?
Free from pop-up ads, or unwanted surveys, Congleton Nub News is a quality online newspaper for our town.