Congleton law firm take to the skies for charity and local mum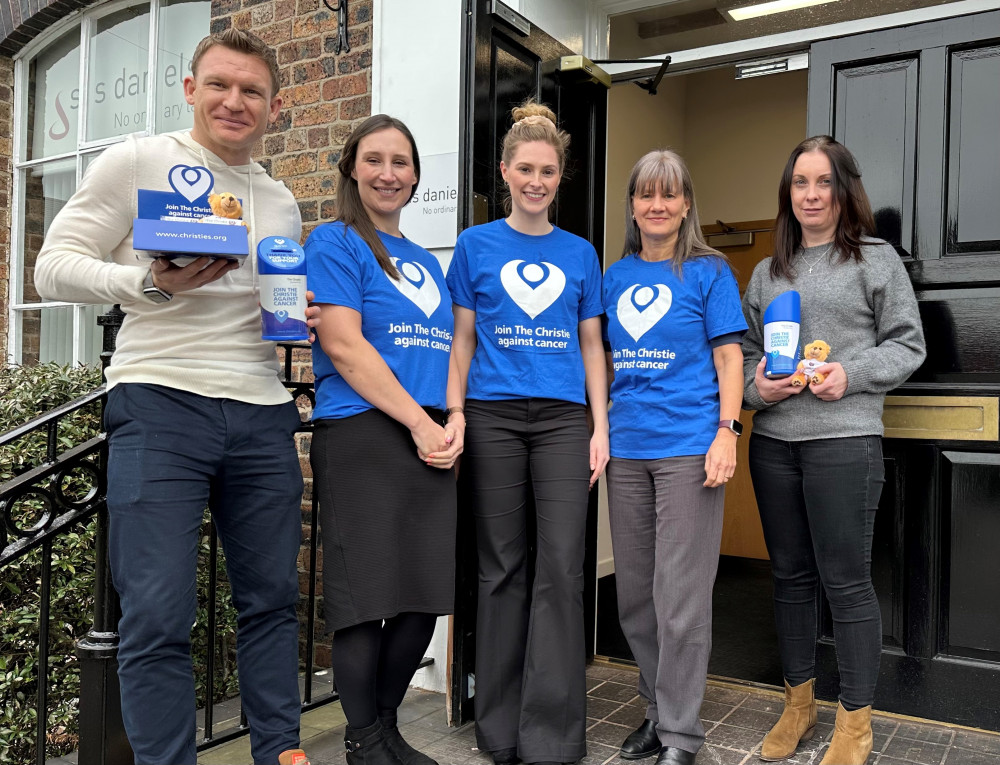 Five of the skydivers pose outside the steps of their Congleton office. (Image - SAS Daniels)
14 employees from SAS Daniels LLP – a Congleton-based law firm – are doing a skydive on Sunday 2 April 2023 to raise money for The Christie NHS Foundation Trust.
Some of the skydivers are based at their Congleton office on Mountbatten Way, located on Riverside.
They want to raise £7000 for The Christie, with their target goal close to being met.
SAS Daniels will be taking on the challenge of a lifetime and jumping out of a plane at 11,000 ft in support of Philippa Tyrer, one of their colleagues' wives, who is currently being treated at the specialist cancer centre's site a few miles from Congleton on Fieldbank Road in Macclesfield.
Philippa was diagnosed with a rare and incurable form of bowel cancer last October. She is currently being treated with palliative chemotherapy which will give her more time to spend with her husband Paul, 50, and their five children.
Paul Tyrer, who is head of the Congleton office and partner of the firm, comments: "We live in Congleton and it means so much to us that Philippa is able to have the best possible cancer care on our doorstep, rather than having to travel into Manchester.
"Her care at The Christie has been first class and her nurses are always there when she needs them. One even dropped a prescription off on her way home from work to save us a journey. I can't say enough about how brilliant they've been.
"We've been overwhelmed by the support of everyone at SAS Daniels. Philippa is a keen runner and, shortly after receiving her terminal diagnosis, several of my colleagues joined her for her last ever parkrun which I know meant a lot to her. The skydive will kick off a year of fundraising for The Christie which we have selected as our Charity of the Year. We've raised over £6,000 so far; so we're already off to a flying start."
The skydive comes just days after The Christie Macclesfield celebrated their first birthday, as reported by Congleton Nub News' sister site Macclesfield Nub News.
Cheryl Haywood, 36, works as an associate at the SAS Daniels Mountbatten Way office in Congleton. She was one of the first to sign up for the skydive, and inspired her Macclesfield colleagues.
She said: "We're quite a close-knit team, so when Paul told us about Philippa's diagnosis, we wanted to do something to show our support. A skydive seemed like a unique way to raise money for the hospital that's looking after Philippa and the family so well. We're feeling quite apprehensive about it – it's not every day that you jump out of a plane – but knowing we're doing it for Paul, Philippa and their family will spur us on."
Funded through £23m from The Christie charity, The Christie at Macclesfield has transformed cancer care for NHS patients, not just in East Cheshire but in the rest of the county, North Staffordshire and the High Peak area of Derbyshire, with the most common cancers like breast, bowel, lung and prostate. In its first 12 months, The Christie at Macclesfield has provided a total of over 32,000 appointments for patients.
The Christie fundraising skydive takes place on Saturday 1 and Sunday 2 April 2023 at Black Knights Parachute Centre in Lancashire.
The Christie charity supports the work of The Christie NHS Foundation Trust providing enhanced services over and above what the NHS funds.
This includes money for care and treatment, research, education and extra patient services. Gifts from the public make a huge difference to the care and treatment that The Christie is able to provide to patients and their families.
SAS Daniels, who also have local sites in Chester and Stockport, have seen 263 people donate so far to the crowdfunder.
Congleton: You too can do so by clicking HERE.