Congleton Property of the Week: 'One-off' three bedroom home in Mossley
Congleton: Offers of £525,000 or over will be accepted for this 'rare' opportunity in Mossley.
---
---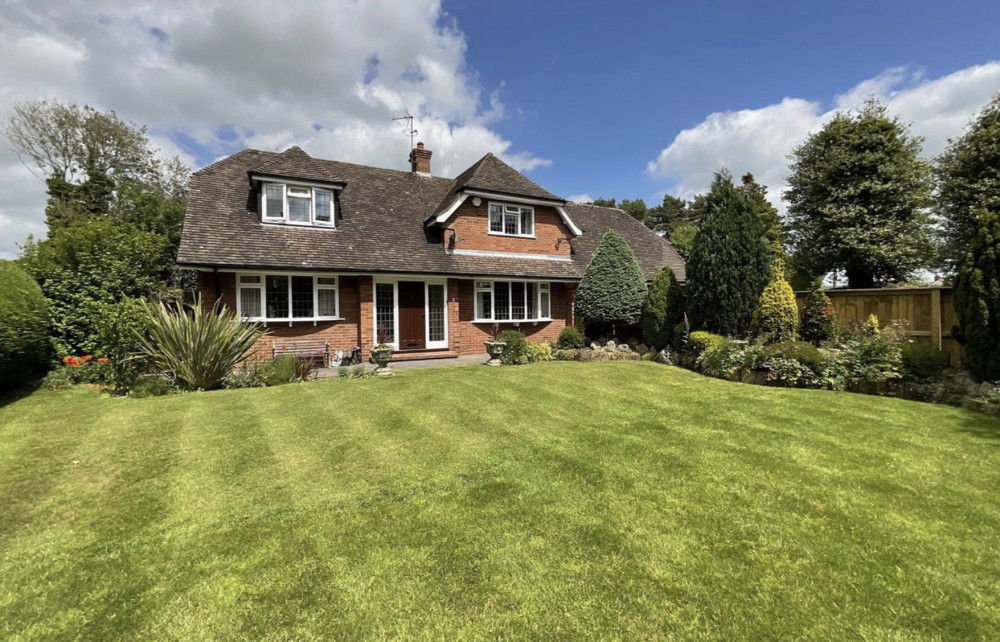 Two baths, two gardens, but not too good to be true! This Mossley home has it all. (Image - Stephenson Browne Congleton)
Every week, Congleton Nub News highlights a new property that has come to the buyer's market.
But it isn't every week we have a property as stunning as this.
Situated in the sought after suburbia of Mossley, The Paddock can be found on Leek Road. This is the same street as Mossley Village Hall, and the local Primary School is within walking distance.
Well connected, it is a stone's throw from Congleton Railway Station and multiple bus stops.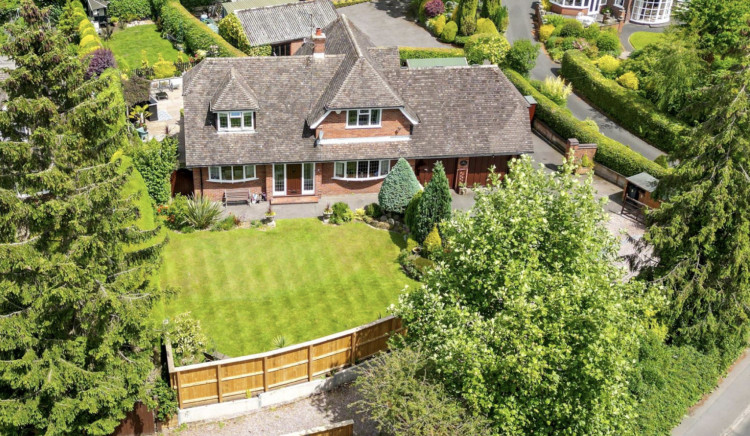 Peaceful, private, and perfectly positioned in our area. Are you tempted by this three bedroom, two bathroom home in Mossley? (Image - Stephenson Browne Congleton)
The Paddock is a three bedroom, two bathroom property, on the market for offers over £525,000.
It has two gardens, two floors, characterful features.
The unique charm of the property has made it a recent favourite of Congleton Stephenson Browne's Sales Director Craig Whitney.
"This is a one-off unique Bill Pedley home, situated in a prominent position in a highly desired location," he said.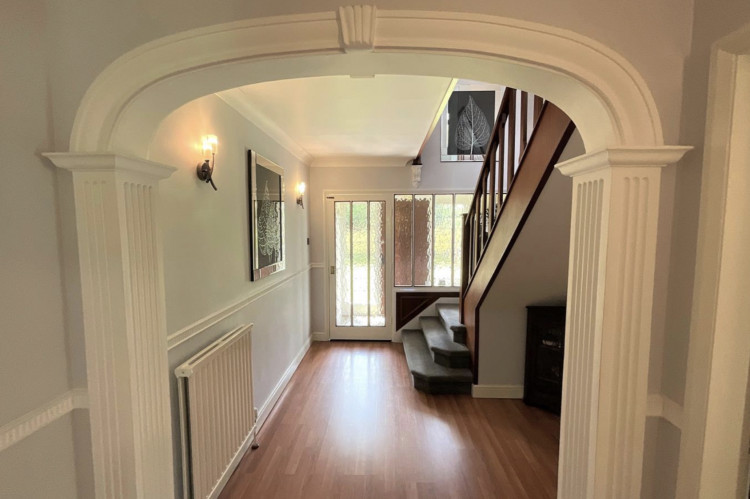 Elegant, spacious and unique. This Mossley home could be yours for an offer over £525,000. (Image - Stephenson Browne Congleton)
"Stephenson Browne are thrilled to bring to market this superb property, which has to be viewed to appreciate the level of accommodation on offer.
"Cared for by our vendor for over twenty years, this in the 'Estate Agent World', really is a rare opportunity."
The Leek Road home hidden behind wooden gates, makes an immediate good first impression straight away. Even before the first of two gardens, there's the front grounds, a bonus pocket of land which can double as a play area for little ones, or store a motorhome, on top of the site's additional parking.
This outdoor entrance to the properties' land also includes - believe it or not - a chicken coop. But please note, chickens are not included! (As you can imagine, birds are not legal tender on the Congleton property market… yet)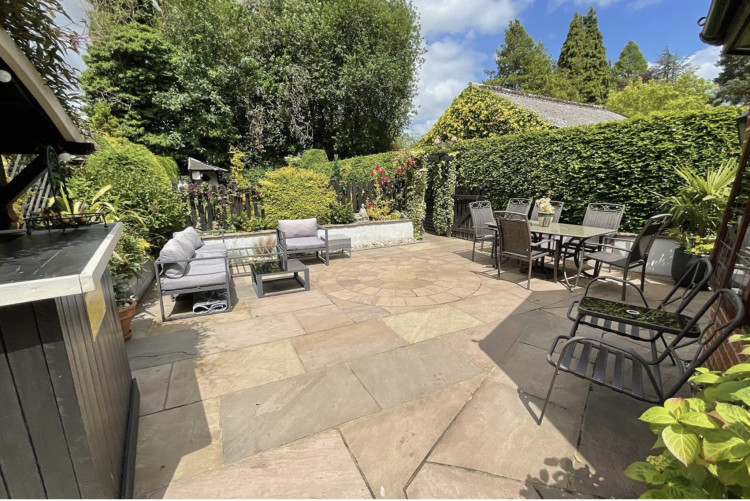 The current homeowners put a bar in, which they may be tempted to leave there if you ask nicely! (Image - Stephenson Browne Congleton)
Closer to the home itself is the front garden, which is the size of what many would welcome in their back garden for a house of this nature. The beauty spot comes with enclosed modern fencing, shrubs half the size of the home, and a lawn rivalling the square footage of the home.
The front garden being the bigger of the two, would make a great play area for kids or grandkids, secured away from the main road thanks to the high wooden fences.
Parking can be found in front of the double garage, towards the rear of the front door. Incredibly, there's even more parking to the side of the home.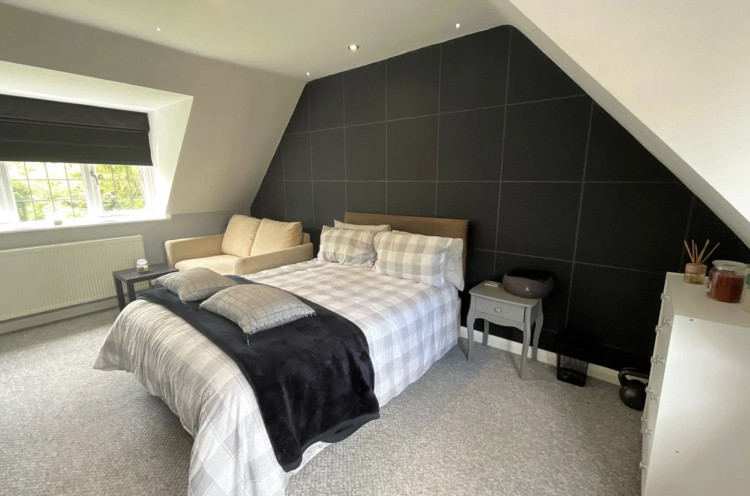 Like the master bedroom, the other bedrooms are also doubles. (Image - Stephenson Browne Congleton)
While the smallest of the outdoor spaces, the showpiece of the rear garden is the large Indian stone patio. The back garden contains ample space for dining, relaxing, and hosting.
The enclosed lawn garden even has a little bar - but you'll have to ask Stephenson Browne Congleton nicely for the current homeowners to consider leaving that feature in there!
Heading indoors, the sophisticated wooden front door is complimented by bright windows either side, frosted for privacy, but letting lots of light in as you enter.
First up, there's a cute boot room separated with another door to the main home, you can also hang up coats here if you so wish, to keep the rest of the ground floor clean.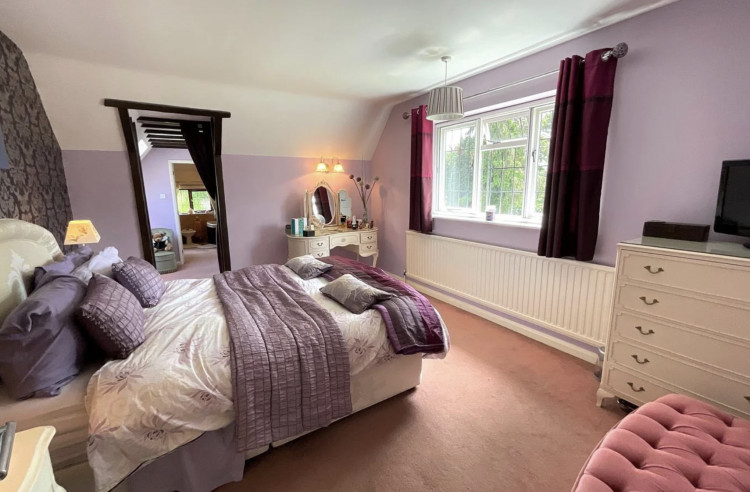 The master bedroom benefits from two accompanying rooms: a dressing room and en-suite. (Image - Stephenson Browne Congleton)
A striking white archway immediately catches the eye in the reception area, which leads to the kitchen. But we are actually going to start upstairs at the staircase is closest as you enter.
The master bedroom suite which won't disappoint, not only is the bedroom area pleasing in size, but it also has a dressing room and en-suite bathroom.
There are two further double bedrooms on the top floor, a rather impressive landing space. As well as and a modern main bathroom.
A big curved bath, and private frosted windows are highlights of the bathrooms.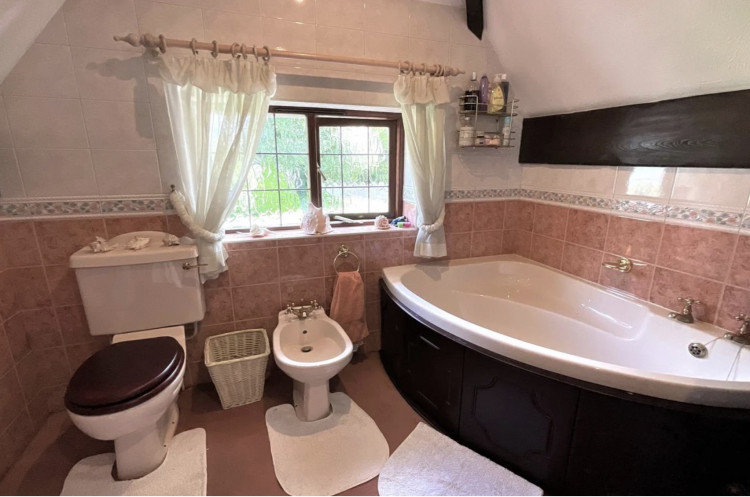 One of the bathrooms even has a bidet. (Image - Stephenson Browne Congleton)
But perhaps most novel, is under floor heating, a feature that may surprise you given some of the period features of this property.
Talking of under floor heating, the ground floor kitchen also benefits from this cosy perk.
The kitchen has a further advantage of a feature island with granite work-surfaces, and lovely views of your garden when washing up.
Appliance-wise The Rangemaster cooker is a prominent feature, and for the right price can remain.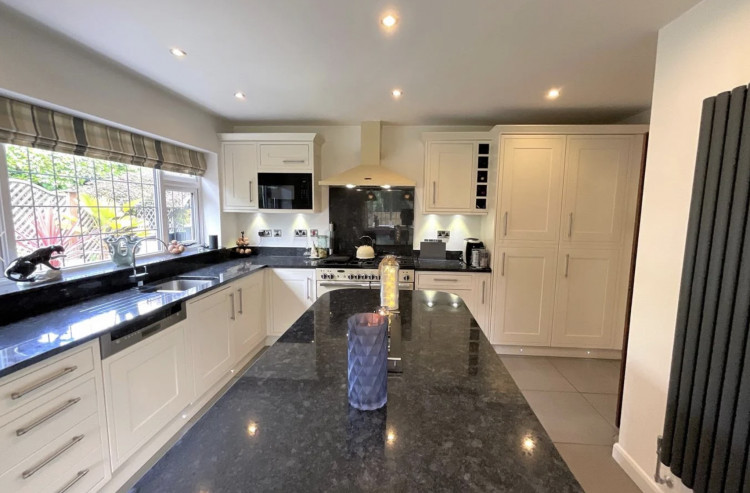 You can take a virtual tour by clicking the red links at the bottom of this article. (Image - Stephenson Browne Congleton)
There is a full height fridge and freezer, plenty of space for a dining table alongside the island bar, Neff integrated appliances, and to finish, the very important wine cooler.
You could easily share a bottle in here across the kitchen island with a large group of family or friends, and still have plenty of room.
Spaciousness continues to be a theme when it comes to downstairs, as though rather importantly does versatility.
The office, which is 20ft long, could be exactly what you've been looking for in the new normal work from home culture we are seeing, but it could also potentially be used as a bedroom, additional sitting room or children's play room.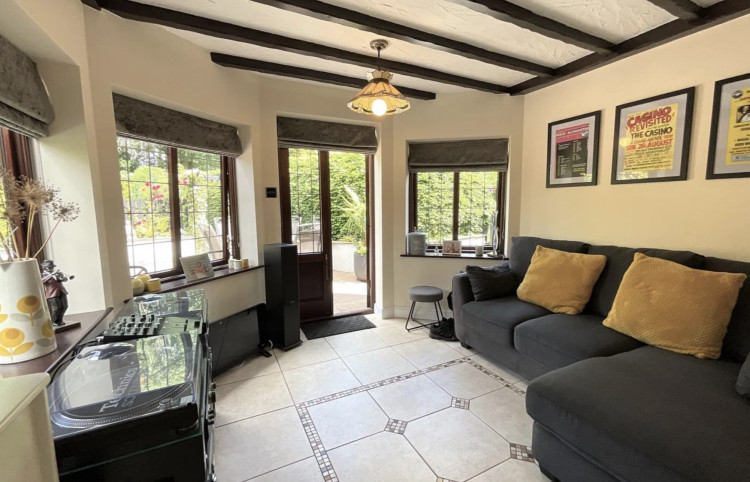 Congleton: This room just before the garden is currently used as a DJ room. What would you do with it? (Image - Stephenson Browne Congleton)
Unbelievably, there is another reception room to the rear, known as the music room to the current vendors, but it can be whatever you want should you buy.
However you choose to use them, there are two reception rooms to the rear, sitting in between them is a utility room and WC.
The lounge looks over the front garden and has an open fire which when lit can heat the hot water.
Additional storage space is in the entrance hall.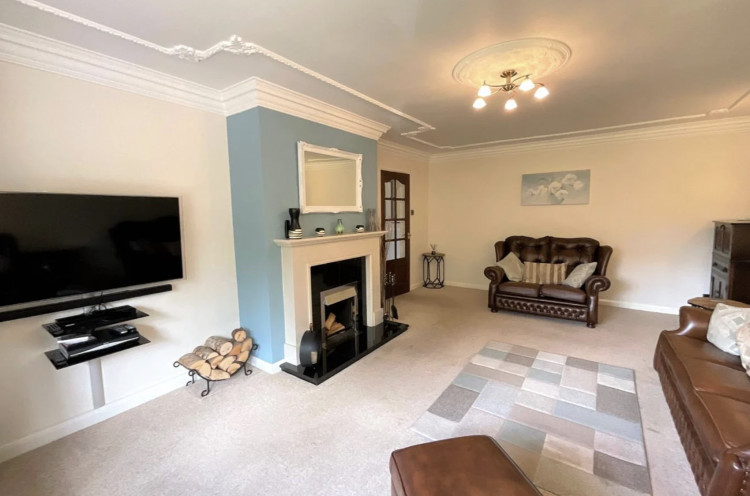 The longue is consistent with the Mossley home's stunning rooms. (Image - Stephenson Browne Congleton)
Given the length of this article, you may be surprised to know that this property is only just over half-a-million pounds.
Any offers over £525,000 will be considered, but be quick!
You can take a virtual tour of the property - and find out more - by clicking on this link.
Viewings can be arranged via the above red link, or on 01260 545600.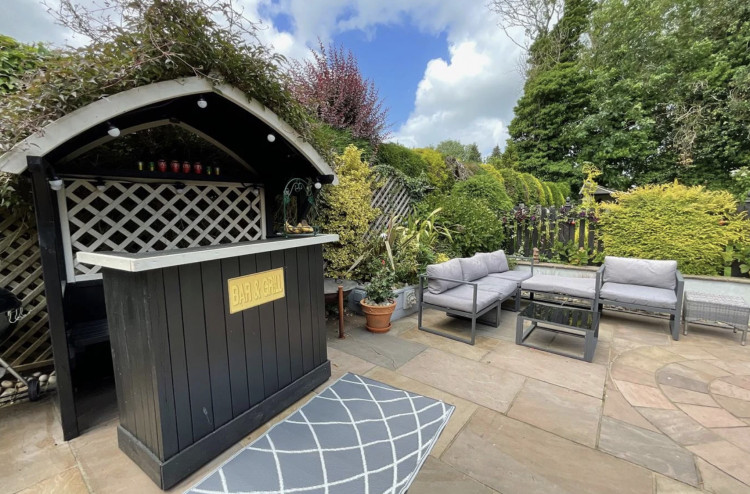 The home is just two miles from Congleton town centre. (Image - Stephenson Browne Congleton)
Alternatively, you can meet and greet the community-driven estate agents to register your interest.
The new Stephenson Browne Congleton office is found on 21 High St, Congleton CW12 1BJ.
Do you know someone who would be interested in this home?
Please consider sharing this article with them, as this listing is sure to sell fast.
You can follow our town's newest estate agents on Facebook, to know first about all of their new Congleton properties coming to market.
So what do you think Congleton. Do you think this home is worth the market price?
Congleton: Have you signed up for our FREE Friday weekly newsletter? It contains each week's essential Congleton news stories, and one EXCLUSIVE article?
Close to 4000 of you have signed up already. Simply enter your email address in the shaded box below or on this link.
Free from pop-up ads, or unwanted surveys, Congleton Nub News is a quality online newspaper for our town.