Santa's on the road again - please support his fundraising efforts and support great causes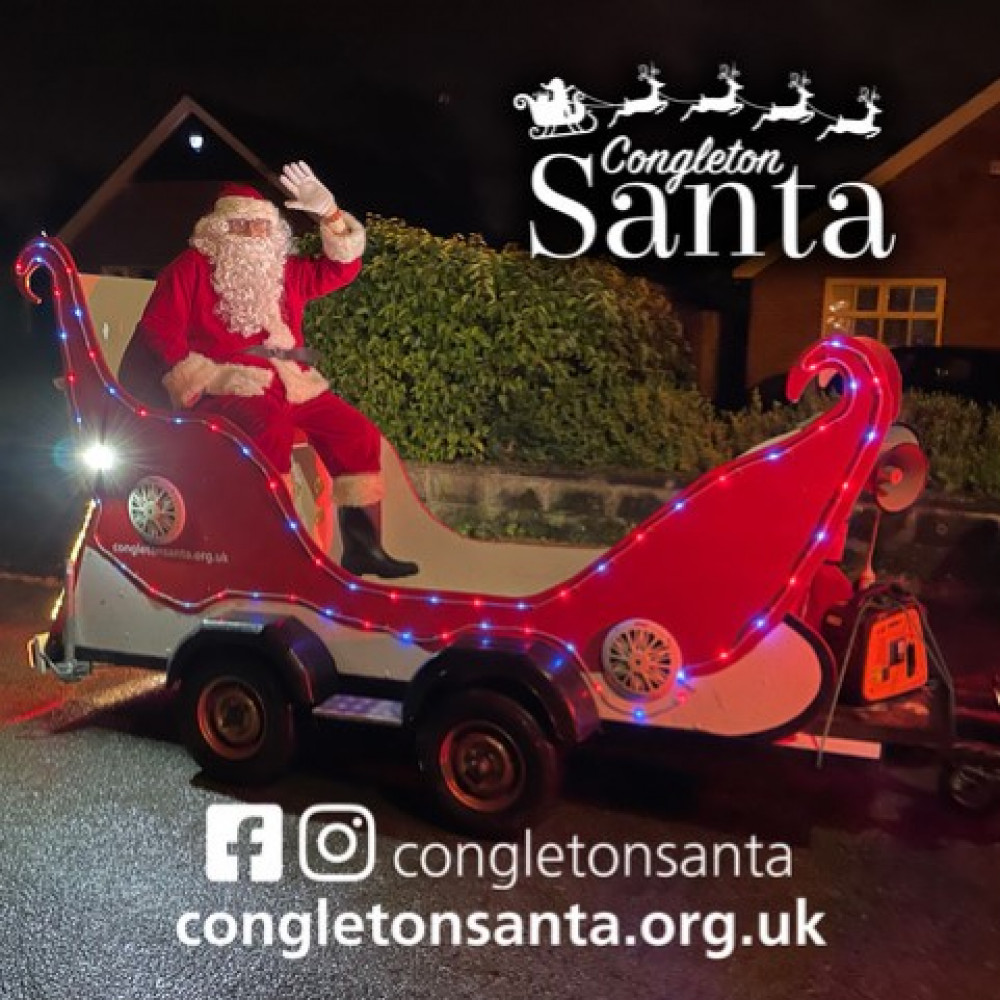 Santa is taking to the roads of Congleton again in the run up to Christmas, assisted by his elves as funds are raised for good causes.
The tours of the town's roads and homes is organised by a group of five friends and volunteers who have worked hard to keep Santa's tours of the town going since Congleton Round Table disbanded in 2005.
The first few runs for this year have taken place but Santa will be back on his sleigh this evening (Friday, 2 December) on Woodlands, Forge Lane and Belgrave Avenue.
The rest of the runs include
04/12 Henshall Hall / Reades Lane / Southlands
05/12 Lower Heath / Havannah
06/12 Daisybank & Hillfields
07/12 Ennerdale & Astbury
08/12 Buglawton Upper
09/12 Canal Road
11/12 Buglawton Lower
12/12 Grangelands & Derwent
13/12 Astbury Lane Ends
14/12 Leek Road
15/12 Bath Vale, Bromley Road & Townsend
16/12 Lower Heath New Estates
18/12 Bromley Farm
A spokesperson for the group said: "Santa is raring to get on his sleigh and visit the people of Congleton again this year. He'll be waving to everyone, blasting his festive music and having photos taken with the sleigh, but he asks that you keep a safe distance and don't try to board the sleigh.
"As usual, Santa's elves will be bringing some good cheer and handing out treats as they collect for all the local good causes.
"Santa plans on visiting come rain, shine or snow, and any route alterations will be posted on Santa's Facebook page and website. You can find detailed 'routes' at congletonsanta.org.uk and under 'events' on Facebook @CongletonSanta.
"If your street is not listed, please come find Santa by using our Santa Tracker, which can be found on the website.
"Your donations help support all of Clause's Causes, and keep Santa's tour happening. Please consider donating to Congleton Santa. There's lots of different ways to help, such as at Santa's website congletonsanta.org.uk/donate, or via Facebook Donate.
"You can even donate by texting SANTA to 70450 with the amount you wish to donate (e.g. SANTA 2 will see you donate £2).
"And if you're buying Christmas presents through Amazon or eBay, please set Congleton Christmas Collection as your charity?
"If you have any loose change to give, what about dropping it off at a Congleton Santa donation point?
"They can be found in Lower Heath Chippy, Jolleyes, Iceland, Leek United, Astbury Garden Centre Cafe, Bargain Booze West Heath, High Town Post Office and Bromley Co-op."
The group has expressed thanks to Alpha Street Legal Tyres has been kind enough to check the sleigh over, while Dave and the team at Pooles Towing & Recovery have once again generously provided Santa's towing vehicle, fuel and driver.
Also on Congleton Santa's nice list this year are Congleton Town Council (who store the sleigh), Beaverbrooks The Jewellers, C4C, Dane Housing, Congleton Chat's back, Congleton Radio, Congleton News & Views, Entwistle Group, Arch Publications and the Congleton Chronicle.