New Congleton street name honours Elizabeth Elmy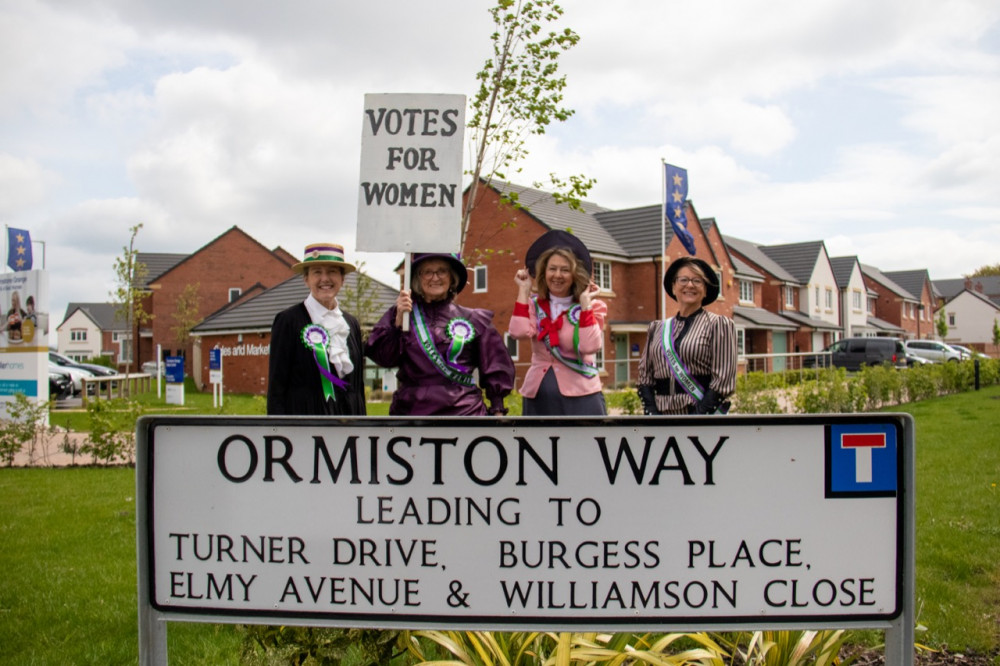 Somerford will have tens of new streets in the coming decade with new homes, and some of the first new roads have been given names.
Street names in Somerford have been named in memory of prominent women of history.
This includes Elmy Avenue, after Congleton resident Elizabeth Elmy, a suffragette who lived and campaigned in the area.
Also among the new Somerford streets are Ormiston Way, called as such to honour Laura Ormiston Chant, a social reformer of her time and author.
This honour has been welcomed by local activist organisation, The Elizabeth Group, who work hard to ensure the efforts of Elmy – which include campaigning for girl's education, and women's right to vote and own property – are not lost to history.
Only a few months ago, they unveiled a statue of Elizabeth which now stands proudly in the centre of Congleton, a culmination of years of hard work by the group alongside sculptor Hazel Reeves.
Alongside this, the organisation has put together an 'Elizabeth Heritage Trail' and have been longstanding advocates of Elmy's life works, sharing them at every possible opportunity.
Speaking of the unveiling of the street name, Sue Munro, head of the group said: "We try to do everything in our power to honour the memory of Elizabeth, who did so much for not just Congleton but the whole country in the way of girl's and women's rights.
"Alongside our statue in the town centre, we feel that Elmy Avenue really helps to solidify her memory in the area and ensures generations to come will remember her legacy.
"We're so grateful to Miller Homes for making this a reality, alongside supporting our cause with funds too."
Elizabeth Wolstenholme Elmy (born 1833), moved to Congleton in 1867.
"English women have much to thank Elizabeth for, and her husband Ben too," added Sue.
"The street name is a fitting tribute to them both.
"I like to think that the girls and young women who live on the estate will think of Elizabeth as they go off to school or work, and remember it was partly her efforts that afforded them the opportunity to do so.
"Who knows where we might have been today without Elmy, Ormiston, Turner, Burgess and Williamson. May their memories be forever celebrated in Congleton and across the nation."
Congleton resident Elizabeth Elmy was the co-founder of the National Society for Women's Suffrage and the Women's Emancipation Union.
She became the first paid employee of the women's movement in 1871. Elizabeth believed women should be able to own property in their own right and not be the property of their fathers and husbands.
She was instrumental in achieving the Married Women's Property Act 1882. Her work also led to the 1869 Endowed Schools Act which advocated that girls should enjoy the same education as boys.
Somerford street Elmy Avenue is joined by Ormiston Way (for Laura Ormiston Chant), Turner Drive, Burgess Place and Williamson Close.
Edinburgh-based developers Miller Homes are to thank for this, after the idea was submitted to the Parish Council when planning and building the Turnstone Grange development in Somerford.
Residents who've purchased a property from the homebuilder will find their new home on one of the five streets that serve as a poignant reminder of the memory of these important women of their region.
Miller Homes also made a donation of £200 to the group, to support their educational and awareness-raising work in Congleton.
Laura Ormiston Chant had many revered public works including pamphlets, hymns, a novel, and a book of poetry, which were described as reflecting "many of the tensions characterising feminism of the late nineteenth and early twentieth centuries".
In 1894, Laura travelled to Bulgaria to give aid to Armenian refugees following the Hamidian massacres. (Source: People Pill).
Clare Noakes, who is Sales Director at Miller Homes North West, added to Sue's earlier comments.
"At Miller Homes, community is the heart of what we do," she said.
"And these women made such contributions to their own communities in their time.
"With Congleton having the likes of amazing activists such as Elizabeth written into its history, it felt only fitting to dedicate a street at Turnstone Grange to her memory."
You can find out more about Miller Homes' charitable and community action by following them on Twitter.
To browse Miller Homes developments in Congleton and the North West, please head to their website.
Macclesfield: Have you signed up for our FREE Friday weekly newsletter? It contains each week's top 10 Macclesfield news stories, and one EXCLUSIVE article?
1200 of you have signed up already. Simply enter your email address in the shaded box below or on this link.
Free from pop-up ads, or unwanted surveys, Macclesfield Nub News is a quality online newspaper for our town.